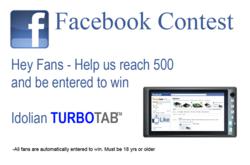 "We're all excited about this Facebook contest, I hope it would be the first of many. "
Newport Beach, CA (PRWEB) July 02, 2011
Idolian.com, a dealer for Android Tablet PC s in California is giving away a free Android Tablet PC as part of their marketing efforts to launch their newest 7 inch Tablet PC. Idolian.com has hopped on social media bandwagon with Facebook as its starting point. Along with its TouchTab priced at $249(On Sale for $199 until 7-4-2011) Idolian's new tablet pc, TurboTab is sure to peak some interest with a starting price of only $299. Since TurboTab was introduced earlier this month, TurboTab is getting huge attractions from all of its customers.
The first contest has launched July 1st, 2011 is simple and easy to get in on. Facebook users are simply asked to become a Fan of their Facebook page http://www.facebook.com/idoliantab by pressing "LIKE". One of the first 500 fans who "LIKE" Idolian's Facebook page will automatically be entered to win the new Idolian TurboTab. The contest is only open to fans 18 years or older. Idolian.com is planning on giving away up to 5 more TurboTab promotions after this contest is done.
"We're just happy to get our name out there. A lot of what you buy on the internet is heavily dependent on our customer's reviews. Everyone I've met who has had a chance to use an Ipad or Galaxy tab has always wanted their own tablet, we're trying to making it affordable to own." said Arthur Lopez, Director of Operations for Idolian.com. "We're all excited about this Facebook contest, I hope it would be the first of many. "
Idolian.com's motto is "Tablets for Everyone". They have been partnering with wholesalers, local businesses and Android developers to continuously find new uses and ways to market their tablets for everyone. Idolian.com is a division of Idolian Mobile, Inc. Idolian mobile, inc is a FCC licensed telecommunications carrier.
For more information, please visit http://www.idolian.com
###