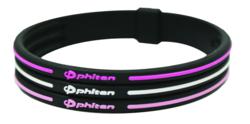 (PRWEB) July 01, 2011
Phiten®, the innovator and original maker of the titanium necklace and precious metal-infused wellness products, today announced its recent additions to its 2011 lineup.
"We are always looking for ways to expand our Phiten product line, such as incorporating new designs and adding colors to our existing selection," said Joe Furuhata, PR and Marketing Manager of Phiten USA. "We listen to customer feedback and requests for new variations in design that match with their lifestyle."
The X30 Tribal II launches a second generation which combines Phiten's power with a tribal tattoo inspired graphic. This reincarnation of the original X30 Tribal uses the Aqua-Titanium® permeated soft nylon outer shell, flexible micro titanium spheres core, a front-end stainless steel grip closure, a sliding Tribal Blade silicone pendant, and an additional open-slit silicone pendant. The necklaces are available in both 18- and 22-inch lengths for $35.00 USD and feature five colors: black, white, navy, red, and pink.
The Air necklace is an ultra-light version of Phiten's trademark necklace, conceptualized and tested by world-class marathon runners asking for something lighter to reduce necklace bounce. The titanium silica foam core cuts overall weight and is a mixture of highly elastic polyurethane and nylon, with a clasp-less design that stretches effortlessly over the head. It's available in black, pink, grey, aqua color and offered in 17 or 20 inches for $25.00 USD.
Phiten's signature Star necklace is now available in four new team colors: royal, grey, orange and pink. The Aqua-Titanium® permeated soft nylon outer shell is surrounded by the classic front-end, industrial thermoplastic clip and classic Phiten silicone seam guard. Priced at $25.00 USD, the Star is available in 18- or 22-inch lengths.
Phiten recently added The Jennie Finch S-Pro bracelet to its collection which offers a sporty yet fashionable look with pink and white colors cutting across a black waterproof silicone band in a sleek wristband design. The bracelet has micro-titanium spheres zones featuring a tri-chromatic split strip. Priced at $21.00 USD, the Jennie Finch S-Pro bracelet is available in a 6.75-inch length.
All products are available for purchase online at http://www.PhitenUSA.com and at participating sporting goods retailers such as Dick's Sporting Goods, Hibbett Sports and Olympia Sports.
About Phiten®
Phiten products are worn by elite athletes and enthusiasts all over the world in promoting your good health, energy and well-being. Headquartered in Torrance, Calif., Phiten shops are located in Seattle, Torrance and Honolulu. Phiten products are available at retailers across the nation, particularly sporting goods. For more information, please visit http://www.PhitenUSA.com.
# # #