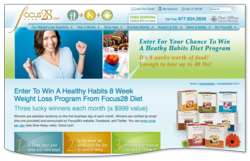 We want people to discover Focus28 and see how easy we make it to lose weight - so we're going to give it away.
Tarrytown, NY (PRWEB) July 01, 2011
Losing weight can be difficult. Nobody likes to feel hungry or be deprived. And nationally known and advertised diet systems can be costly - and purchasers won't know if they'll like the diet or if it will work until they've already spent money. It can be very frustrating and risky.
Now dieters can win themselves thin
Focus28 Diet is pleased to announce the new Monthly Healthy Habits Give-Away. Winners will receive Focus28's 8-week weight loss program - completely free. The program includes all the food, the workout, and the support necessary to lose up to 40 pounds. Imagine – winners could become thin for free.
"Our weight loss solution is one of the best available," said Mitch Suss, CEO of Focus28. "We want people to discover Focus28 and see how easy we make it to lose weight - so we're going to give it away." The Focus28 Monthly Give-Away will draw three random winners from the eligible entries. The lucky three will each receive a complete weight loss solution. The Focus28 Healthy Habits 8-Week Weight Loss Program (a $999 value) includes nearly 400 servings of diet supplements, snacks, and meal replacements - all a dieter needs for two months*. The Healthy Habits program adapts for women or men and can be modified to be diabetic-friendly or gluten free - as part of the program, the Focus28 support team tailors the weight loss plan for the winners.
Enter once daily and possibly double or triple your entries
To enter the Focus28 Monthly Give-Away visit https://www.focus28diet.com/sweepstakes/ and provide a name and email. It's that easy. Visitors can enter once per day. However, participants can increase their daily entrees by "Liking" Focus28 on Facebook or Following or Tweeting about Focus28 on Twitter - a like or tweet will each duplicate the initial entry. No purchase is necessary, void where prohibited, and participants must be eligible to enter - for details, please see the complete sweepstakes give-away rules.
About Focus28 Diet, Inc.
Focus28 Diet started out treating post-op bariatric surgery patients. Their success in developing programs specific to the needs of bariatric patients and their long-term maintenance led directly to the development of the Focus28 Weight Loss solution. The Focus28 weight loss approach promotes protein enhanced diet foods that safely and effectively impact weight loss through calorie reduction, exercise, and continual support. Focus28's programs include meal replacements, supplements, and snacks that keep you eating every 2-3 hours so you're never hungry. The higher protein amount keeps energy levels up, increases metabolism, and maintains and promotes lean muscle. The combination of delicious diet foods, the proprietary Iso-Towel Workout, and patient support has proven a successful formula for weight loss.
*The weight loss program necessitates eating a daily lean & green meal and optional food items (e.g., dairy, starch, vegetables) - these items are not included.
###