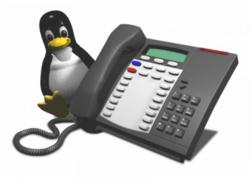 ZTelco's cloud-based, self-scaling, open API platform means reduced operational costs, less time spent on service failures, and protection against downed networks and data loss.
San Diego, CA (PRWEB) July 01, 2011
ZTelco Technologies introduces distributed, cutting edge approach to VoIP technology infrastructure with ZTelco open-source telecommunications software.
ZTelco's cloud-based, self-scaling, open API platform means reduced operational costs, less time spent on service failures, and protection against downed networks and data loss.
VoIP innovator ZTelco Technologies® announced today the release of its newest product, ZTelco, the first-ever distributed, open-source communications software that enables any company to provide reliable cloud-based enterprise and carrier-grade telecom services. Also today, the company announced ZTelco's first deployment with leading business communications provider, California based Enteracloud Solutions.
ZTelco dramatically cuts traditionally high VoIP operational costs with a self-scaling architecture that automatically configures additional servers and adjusts for real-time usage, while 24/7 monitoring catches glitches before they cause disturbances. The product's unique, horizontal architecture ensures minimal service disruptions due to network failures for paramount data safety. With ZTelco, call components are modular and independent, and redundancy automatically saves data in multiple locations. API mash-up technology allows companies to easily integrate their existing applications. Providers who wish to add new functionality can choose from pre-built ZTelco Apps.
"Open source telecommunications software has graduated from hobbyist or low-grade quality networks to high-grade, reliable, enterprise technology, and ZTelco Technologies is the leader in these advanced networks," said Jake Hansen, CEO and co-founder of ZTelco Technologies. "ZTelco is the first open communication infrastructure that allows companies to easily upgrade to a more powerful VoIP system that can host large carrier VoIP platforms for leading communications companies like Enteracloud. We believe that ZTelco is the future of telecommunications in the cloud, and we're keeping it open-source."
ZTelco was selected by Enteracloud Solutions, a leading provider of business-ready communications service solutions, to expand its VoIP infrastructure while still allowing the company to use its existing interface and applications.
"We're excited to add ZTelco as another switching activation component utilized by our cloud service. Resellers and end users can access cost effective services in real-time and activate hosted seats, devices, phone numbers, and e911, just to name a few. ZTelco is helping us reduce even more operational costs by automating all of our services through one platform," said Dave Wiedmaier, CEO at Enteracloud Solutions. "In addition, the ZTelco Technologies team offers around-the-clock tech support services, which is critical to operating such an advanced system."
ZTelco is a call processing fabric designed to work on multiple processors at high-volumes with high reliability. Utilizing cutting-edge technologies like VOIP, SIP and MySQL, the ZTelco platform allows for complete independence and redundancy of all components in a VoIP system, and couples the architecture with true distribution across nodes – either over a private WAN or the public Internet. Thanks to the power of the Ztelco database system, Ztelco messaging and the reliable Ztelco switching platform, ZTelco Technologies provides a turn-key solution for service providers looking to expand their offerings with little effort. To top it off, the product is offered in a ready to run hosted application platform.
For more information, please visit http://www.ZTelco.com, or email jhansen(at)ztelco(dot)com.
About ZTelco Technologies
Headquartered in San Diego, California, ZTelco Technologies specializes in open-source communications software and cloud computing telephony services. The company is turning 100+ years of hardware-based communications technology into a scalable, open-source VoIP platform that supports hosted PBX services, conferencing environments, call-center environments and open API mash-up technology. With fluency in hosting and managed services, carrier-grade termination, software design and professional services, the ZTelco Technologies team is manufacturing the next-generation of telecom: a platform that supports multiple environments and programming languages. For more information, visit http://www.ZTelco.com.
###