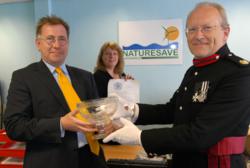 Totnes, Devon, UK. (PRWEB UK) 1 July 2011
Today South West ethical and green insurance provider, Naturesave Insurance, was presented with their prestigious Queen's Award for Enterprise for Sustainable Development trophy by Mr Robin Barlow DL FRICS, on behalf of Her Majesty's Lord Lieutenant of Devon, in their offices in Totnes on July 1st at 11a.m.
Mr Barlow presented managing director, Matthew Criddle with a crystal bowl to mark the occasion. He was supported by Vice Chairman, Devon County Council, Cllr Ray Radford, Chairman, South Hams District Council, Cllr Rufus Gilbert, Mayor of Totnes, Councillor Judy Westacott, Member of Parliament, Dr Sarah Wollaston and Deputy Clerk to the Lieutenancy, Mrs Judy Grainger. The Awards citation was also read out.
The Awards are made each year by The Queen, on the advice of the Prime Minister, who is assisted by an Advisory Committee that includes representatives of Government, industry, commerce, and the trade unions. There are three categories of award: international trade, innovation and sustainable development. Winners are announced each year on 21 April, The Queen's birthday. The Queen also invites winners to a reception at Buckingham Palace.
Naturesave Insurance has been an innovator and market leader in the ethical and green insurance market for 17 years. It is the UK's first and only specialist ethical insurance provider offering a range of innovative policies by which clients may protect both themselves and the environment.
Naturesave promotes sustainable development within the business community and aims to create greater awareness within the Insurance industry about the long term problems that the industry faces in ignoring the threat of climate change, pollution and environmental damage.
In the award citation, Naturesave Insurance was described as, "an exemplar ethical insurance cover provider for individuals, companies, and the voluntary sector throughout the UK, which has set a clear benchmark for others within the insurance industry. Sustainability and ethical business practices are at the core of the company's commercial activities, with preferred treatment given to charities and not-for-profit organizations."
"Naturesave Insurance has taken an innovative approach to promoting sustainability and delivering benefits within the wider community through the Naturesave Trust (funded through the company's premiums) that gives grants to environmental, conservation, and community renewable energy projects throughout the UK." Thus far, £250,000 in grants have been awarded to projects that encourage the commercial adoption of sustainable development. The array of funded projects can be explored at http://www.naturesave,co.uk.
Naturesave also offers environmental audits. It rewards carbon offsetting on its commercial policies and energy-saving measures on its domestic policies. This year, the company launched the industry's first insurance policy covering domestic renewable systems as part of their standard household insurance.
Naturesave has become the preferred insurer of over thirty Transition Towns across the UK (including Totnes). It insures award-winning Grand Designs properties, and has been chosen to insure high profile events, including Nelson Mandela's 90th Birthday celebration and his "46664" charity.
Naturesave's founder and managing director, Matthew Criddle said: "It's an honour to be recognised by The Queen and locally by the Lord-Lieutenant of Devon. It shows that it really does pay to be genuinely green. It's an acknowledgement that, not only do our clients value our ethical approach, but that, at the highest national level, society values innovative and meaningful ways to effect sustainable development. It's also a good excuse to smarten our offices up to host this momentous occasion."
Contact Information
To arrange interviews and images please contact dawnbebe(at)weareonshore(dot)com 07831 790416 or janegeran(at)weareonshore(dot)com 07788 441357
###