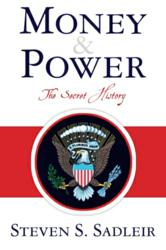 "Every student should read this book before graduating" Mark Victor Hansen
Los Angeles, CA (PRWEB) July 04, 2011
Best-Selling Author Steven S. Sadleir provides an insider's look at the world of global banking, currency and markets and explains in simple language what went wrong and what to do about it.
Our whole world economy is changing yet very few people understand what is happening or realize the consequences. In Money & Power, The Secret History Mr. Sadleir explains for the layman how money is created and who controls it, the United States internal war against the European banking cartel, who created the credit crisis and why, what the New World Order and Globalization mean, who behind the Federal Reserve, what derivatives are and who is ultimately in control of the world.
According to Steven Sadleir "ignorance is why we suffer." In Money & Power, The Secret History Mr. Sadleir reveals new information very few people know about TARP, the wars in the Middle East, assassinations of presidents and how information is massaged in the media. The whole book provides the facts and figures to educate the population as to what is really going on, what is not being addressed in the mainstream media and why. "Every student needs to read this book before graduating" says Mark Victor Hansen, best-selling author and visionary.
Steven S. Sadleir studied international banking at the University of Wales, worked as an economist for the United States government, as an international banker for Lloyds Bank in Los Angeles, and later as investment banker and fund advisor and has been writing, lecturing and speaking publically for over 20 years. Mr. Sadleir is also a Kundalini Master and director of the Self Awareness Institute, teaching methods of evolving consciousness to professionals in over 120 countries, appears in two movies released this year, 3 Magic Words and Spiritual Revolution, and is host of Enlightenment Radio.
Money & Power, The Secret History is published and distributed by Amazon.com, paper, 225 pages, $12.95. ISBN 978-1461005544 MoneyandPowerBook.com
###