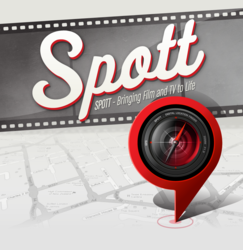 Spott brings Film and TV Shows to Life
London (PRWEB) July 07, 2011
Spott, a new app available on iOS and Android, brings iconic scenes from films and TV shows to life.
A 'Spott' is a location made famous on screen – from the parachuting in Bridget Jones: The Edge of Reason all the way to the Tudor-style Mansion used in the pilot episode of CSI Miami, from the empty streets in 28 Days Later to Freddie's apartment in Gangster No. 1, Spott details thousands of famous Film and TV settings.
Spott users can find which Spotts are near them or search a particular city or area for filming locations. Spotts can also be searched by Film, TV Show, or by associated people.
From James Bond, X-Men, Harry Potter, and Dante's Peak through to The Office, Breaking Bad, Cranford and Larkrise to Candleford – Spott has them all.
From the Millennium Dome in London to the corner of the 5th and Main Streets, Henderson, Kentucky, there are Spotts across the globe.
Actors, Directors and Producers associated with each Spott are detailed, whether you're into David Schwimmer or Scarlett Johansson.
Registered users can become 'Spotters', submitting their own Spotts and photos of themselves at new or existing Spotts.
The Spott app is available on iOS (iPhone, iPod Touch and iPad) and on Android for £1.79.
Download from iTunes here: http://itunes.apple.com/gb/app/spott/id441935989?mt=8
And from the Android Store here: https://market.android.com/details?id=uk.co.syncstudios.spott
For more information about Spott, visit http://www.gospott.com
###