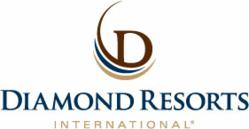 Las Vegas, NV (PRWEB) July 01, 2011
Diamond Resorts International® (Diamond) a global leader in the hospitality and vacation ownership industries, continues to expand its global portfolio with the acquisition of substantial assets of Orlando, Florida-based Tempus Resorts International (Tempus).
With more than 40,000 existing Tempus owners, this acquisition further expands Diamond's offerings in Central Florida and South Carolina. Tempus operates Mystic Dunes Resort & Golf Club in Orlando, Florida and has ownership in Dunes Village Resort in Myrtle Beach, South Carolina. Located on over 600 acres in Central Florida and just minutes away from the major theme park attractions, Mystic Dunes provides more than 700, fully furnished, one, two and three bedroom units, as well as an 18 hole championship golf course. From an Atlantic coast beachfront location in Myrtle Beach, Dunes Village brings a new location to Diamond Resorts International®.
According to Stephen J. Cloobeck, chairman and chief executive officer, Diamond Resorts International®, "We have strategically positioned ourselves as a global leader and competitor in the hospitality industry and engage in future plans for further growth and development as this acquisition marks significant momentum in global growth initiatives. We are not only committed to delivering service excellence, but also to providing more choices to all of our owners, members and guests."
Diamond Resorts International®, with global headquarters in Las Vegas, Nevada, is one of the largest hospitality companies in the world with more than 200 branded and affiliated resorts and over 27,000 guest beds in 28 countries with destinations throughout the continental United States and Hawaii, Canada, Mexico, the Caribbean, Europe, Asia, Australia and Africa. Offering simplicity, choice and comfort to more than 385,000 owners and members through the branded hospitality service of more than 5,500 team members worldwide, Diamond Resorts International® is dedicated to providing its guests with effortless and relaxing vacation experiences every time, for a lifetime.
Annually, nearly 1.4 million owners, members and guests enjoy the simplicity, choice and comfort Diamond Resorts International® offers through our branded hospitality experience.
About Diamond Resorts Corporation
Diamond Resorts Corporation and its subsidiaries develop, own, operate and manage vacation ownership resorts and, through resort and partner affiliation agreements, provide owners and members with access to 70 managed resorts and 132 affiliated resorts through THE Club® at Diamond Resorts International®. To learn more, visit DiamondResorts.com.
###