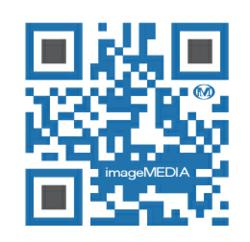 Tarpon Springs, FL (PRWEB) July 05, 2011
The printing experts at imageMEDIA and USPS are pleased to announce a discount of three percent on direct mail with QR codes. Retail and wholesale clients can improve the returns on their postcard marketing investment simply by using QR codes and special offers.
A quick response (QR) code is a two-dimensional bar code which carries specific information. Information could be simple text, a picture, or the address of a specific website. QR codes are often readable by smartphones or tablets, and advertisers have recorded favorable response rates from customers when using a QR code on a product. The QR code technology is rapidly increasing in popularity as consumers upgrade to smartphones.
A QR code turns direct mail into an interactive piece of property. Although postcard marketing is generally static and limited to the information that can be printed on each card, a QR code can direct a customer to a specific website for additional activities. Traditional postcards are typically looked at once or twice and then thrown into the trash.
Common methods of encouraging QR code responses include turning each QR code into a sweepstakes entry, offering prizes for redeeming a QR code, or using a QR code as a vote. Customers are more willing to participate directly with a company if there is a clear activity or benefit.
The advantages of using QR codes on direct mail include interactivity, longer sales pitches, and increased information. A postcard can only hold a modest amount of information, but a QR code can be linked to a gigantic website. Companies can create larger and longer sales pitches using a QR code and a postcard in tandem instead of relying solely on a postcard.
A QR code adds to direct mail's natural advantages. A postcard marketing campaign can target a specific demographic group, is printable in a number of different formats, and offers measurable results. An email advertisement may be blocked by a spam filter, but a postcard almost always reaches the consumer. Customers also enjoy having a physical advertisement in their hands to show their family and friends.
Consult the printing professionals at imageMEDIA for postcard marketing projects of any size. The company's direct mail department offers competitive rates, high-quality printing, and industry-leading turnaround times. Although postcard marketing can be a competitive field, the discount from imageMEDIA and USPS allows companies to save money and earn higher advertising returns with QR codes.
About imageMEDIA
Based in Tarpon Springs, Fla., imageMEDIA.com is an environmentally friendly, online printing company that offers industry leading, design , print, direct mail, and list solutions for retail and wholesale customers through its state-of-the-art printing facility. imageMEDIA offers complete solutions for Postcard Printing and Mailing for Small Businesses nationwide.
###