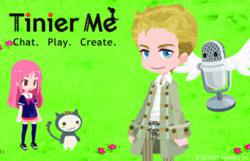 "The addition of Crispin Freeman as an official sponsor will cement TinierMe's reputation as a vibrant anime community."
San Francisco, CA (PRWEB) July 05, 2011
TinierMe, the virtual world focused on Japanese animation, today announced that Crispin Freeman, a prolific anime and video game voice actor and mythology lecturer, has joined TinierMe as an official sponsor. Crispin Freeman will have his own custom designed avatar to use within TinierMe to chat with fans, hold events and play games. TinierMe has today also released a Crispin Freeman quiz event, which old and new fans can participate in to learn little known Crispin facts. Crispin Freeman fans around the world will be able to chat with Crispin by visiting his profile, meet other fans to discuss Crispin's roles and lectures, and get the latest news on Crispin's off-line TinierMe appearances, upcoming seminars and more.
"The addition of Crispin Freeman as an official sponsor will cement TinierMe's reputation as a vibrant anime community." said Masaru Ohnogi, CEO of TinierMe. "We hope Crispin Freeman fans not yet familiar with TinierMe will join the community and take advantage of this unique opportunity to interact with Crispin."
About Crispin Freeman:
Crispin Freeman is the voice actor behind a wide array of animated and video game characters. He is also an expert at celebrity voice matching, and creates voiceovers for commercials and trailers. On top of this, he is an anime historian and an authority on mythological animated storytelling. He has an extensive knowledge of comparative religions and presents internationally at academic conferences and film festivals. http://www.crispinfreeman.com
About TinierMe:
TinierMe is a fun virtual world based on Japanese anime and culture. TinierMe lets you build a tinier version of yourself so you can chat, play and create online. TinierMe includes: Selfy Town, a virtual world; Selfy Shop, where you can get outfits, hairstyles, and more to build the perfect avatar; Tinier Games, a place to play card games and interactive challenges with other users; and updates, with exciting new content released twice a week. TinierMe lets you experience anime culture easily and escape from the doldrums of the real world through your imagination and creativity. GCREST America, Inc. is the company behind TinierMe, and is a fully owned subsidiary of GCREST, Inc. in Japan. To create your own Selfy and join the fun, come to http://www.tinierme.com.
###