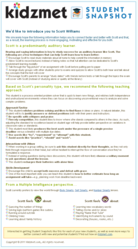 Academic achievement and student behavior are influenced by the quality of the teacher and student relationship.
Santa Barbara, CA (PRWEB) July 13, 2011
When kids head back-to-school each year, their teachers have between 15 and 30 new students to get to know as quickly as possible. But names, faces and the past year's grades only paint a part of the picture for the teacher. In order to help their students learn most effectively, teachers also need to be able to understand the child's personality type, subject strengths and cognitive style as quickly as possible. Kidzmet's new Student Snapshot is one way for parents to inexpensively help ensure that new teachers understand the optimal ways to connect with each of their kids...before the bell rings on the first day of school.
Emailing a Student Snapshot to your child's new teacher costs just $2.99 per email address and arms teachers with knowledge that can help start the teacher-student relationship off on the right foot. This is important because a growing number of studies indicate that "academic achievement and student behavior are influenced by the quality of the teacher and student relationship." (Jones, Vernon & Louise. Responsible Classroom Discipline. Boston: Allyn and Bacon, Inc., 1981. pg 95) As such, the quality of the teacher-student relationship can make or break the student's learning trajectory for the school year...and potentially for years beyond.
In order to send teachers a Student Snapshot, the child must first complete a Pairing Portrait on Kidzmet.com. The questionnaire takes about 10 minutes to complete and is free. Completing a Pairing Portrait will also tailor Kidzmet's complimentary monthly parent newsletter with educational activity recommendations for each child based on his or her unique learning strengths.
About Kidzmet
Launched in Spring of 2011, Kidzmet.com is the first website to use personality, multiple intelligence preferences and predominant cognitive style to help match teachers with students. Its service, available in the United States from coast-to-coast, evaluates the fit type of a teacher with an individual student in order to help parents pair their kids with local extracurricular activities led by individuals that instinctively understand how to help each child's seeds of potential blossom.
Kidzmet's student screening tools can be used by teachers, tutors, coaches and schools to facilitate better teacher/student connections so that learning can start from minute 1, leading to more engaged and motivated learners.
Kidzmet's blog provides at-home learning activity recommendations that expose kids to different aspects of the whole child curriculum through the multiple intelligence lens through which they prefer to view the world.
###