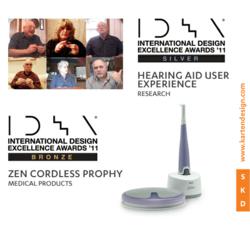 We believe in using research and design to create positive impact and solve real world problems. It's an honor to receive recognition for projects that have accomplished this goal.
Los Angeles, CA (PRWEB) July 05, 2011
Karten Design, Southern California's leading product innovation consultancy, received accolades on a global stage today with the announcement that two of the firm's projects were honored as winners in the 2011 International Design Excellence Awards (IDEA) program —a celebration of design excellence in products, sustainability, interaction design, packaging, strategy, research and concepts.
Karten Design's extensive two-year research program for Starkey Laboratories, Inc. which has informed the company's product development strategy and long-term product roadmap, from hearing aids to accessories, was honored with an IDEA Silver in the Design Research category. The Zen Cordless Prophy, created for Discus Dental, won an IDEA Bronze for standout design in the field of Medical and Scientific Products.
"We believe in using research and design to create positive impact and solve real world problems," says principal Stuart Karten. "It's an honor to receive recognition for projects that have accomplished this goal."
Improving the Hearing Aid Experience
No one wants a hearing aid. In fact, research has shown that people with hearing impairment live in denial for five to nine years before seeking treatment. Working with Starkey, Karten Design set out to redefine an undesirable experience by understanding and meeting the physical and emotional needs of 60 to 80-year olds with hearing impairment. Karten's ongoing research has helped Starkey to drive product innovation rooted in real user needs. During a four-year partnership, Karten has lead a multi-disciplinary team of researchers, designers, product managers and engineers in using research insights to develop and test products, including a line of hearing aids that reduce a strong stigma and improve the user experience with innovations such as the hearing industry's first touch control.
Taking the Fear out of a Trip to the Dentist
At least 5% of the U.S. population would rather suffer unspeakable pain than visit a dentist, where they find a room full of sharp and scary metallic dental instruments. The design of the Discus Dental Zen—the first cordless tooth polisher—helps to change users' perception of the dental visit. With Zen Cordless Prophy Karten Design created a clean, iconic aesthetic more at home in a health spa than a traditional dentist's office. Not only does the Zen improve the patient experience, it creates a safer, more comfortable work environment for dental hygienists. Corded prophies often cause hand strain, sometimes leading to carpel tunnel syndrome for hygienists who routinely perform 40 or more dental polishing procedures weekly. Designed to rest comfortably in the hygienist's hand, the cordless Zen facilitates freedom of movement and incorporates ergonomic details to reduce stress and strain. An elegant silhouette integrates ergonomic details like an axial symmetrical shape in the grip area that balances its weight and reduces hand strain. Zen's design makes infection control easier with autoclavable barrier shells and disposable cleaning angles.
In addition it its winning projects, Karten Design also had two finalists in this year's program – the LifeStudio Mobile Plus external hard drive for Hitachi GST, and the Spyder Avant Goggles designed for leading paintball equipment manufacturer Kingman.
The IDEA program is considered one of the most preeminent design competitions in the nation with its scope and influence reaching far beyond U.S. boundaries. With a record-breaking 2,000 entries, the 2011 selection process was especially rigorous, with winners chosen by a judging panel of 20 world-renowned design experts. Each of the 2011 IDEA award winners will be featured online by Fast Company and included in the IDSA's annual Yearbook of Industrial Design Excellence.
About IDSA:
Founded in 1965, the Industrial Designers Society of America (IDSA) is one of the world's oldest, largest, member-driven societies for product design, industrial design, interaction design, human factors, ergonomics, design research, design management, universal design and related design fields. IDSA produces the renowned International Design Excellence Award® (IDEA) competition annually; hosts the International Design Conference and five regional conferences each year; and publishes Innovation, a quarterly journal on design, and designBytes, a weekly e-newsletter highlighting the latest headlines in the design world. IDSA's charitable arm, the Design Foundation, supports the dissemination of undergraduate scholarships annually to further industrial design education. The organization has more than 3,000 members in 27 chapters in the U.S. and internationally. For more information, visit http://www.idsa.org.
About Karten Design:
For 27 years, Karten Design has been a strategic partner to companies seeking to differentiate their products through creativity and design. Karten's user-centered design approach develops products that excite their target customers and reflect empathy for user needs. Connecting creativity with commerce, Karten designs products that serve as brand ambassadors for clients, leading to greater market share and increased profit.
TWITTER SLUG: Research and design improve user experience: Karten Design wins two #IDEA2011 awards for hearing aids, dental tools.
# # #