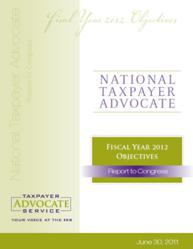 Washington, D.C. (PRWEB) July 05, 2011
National Taxpayer Advocate Nina E. Olson released a report to Congress that identifies the priority issues the Taxpayer Advocate Service (TAS) will address during the coming fiscal year. The report expresses particular concern about the impact of IRS budget cuts on taxpayer service and tax compliance and about IRS lien filing practices.
"The IRS has made significant progress on important fronts over the last year, including the implementation of return-preparer regulation, the transition to the Customer Account Data Engine 2 (CADE 2) to improve returns processing, and the streamlined processing of offers-in-compromise," Olson said in releasing the report. "At the same time, the IRS faces significant challenges in the year ahead, particularly if its budget is reduced."
IMPACT OF POSSIBLE BUDGET CUTS ON TAXPAYER SERVICE AND COMPLIANCE
The last few years have been particularly challenging for taxpayers and the IRS, as the recently enacted Economic Stimulus Payments, First-Time Homebuyer Credit, and Making Work Pay Credit, among other tax benefits, have proven complex to claim or substantiate and have led to a significant increase in taxpayer inquiries and problems. At the same time, the IRS's ability to respond to taxpayer phone calls and correspondence has declined. Comparing FY 2010 with FY 2004, the percentage of phone calls the IRS answered from taxpayers seeking to reach a telephone assistor declined from 87 percent to 74 percent, and the percentage of unanswered correspondence classified as "overage" at year's end increased by 135 percent.
TAS's case receipts have risen from about 169,000 in FY 2004 to about 299,000 in FY 2010, an increase of 77 percent. The report expresses concern that if TAS does not receive sufficient resources to handle its growing workload, it will have no choice but to decline to accept certain categories of cases, leaving taxpayers to fend for themselves.
In FY 2012, TAS will continue to study the adequacy of the resources available to the IRS to enable it to fulfill its tax collection and taxpayer service responsibilities, and will continue to advocate for a reasonable balance between the IRS's responsibilities and its resources.
IRS COLLECTION PRACTICES
The National Taxpayer Advocate has expressed concern about IRS collection practices in prior reports and has, in particular, made recommendations to reduce the harm that unproductive liens can inflict on taxpayers. This report praises several recent changes the IRS has announced, including making lien withdrawals available to taxpayers in a wider range of cases. However, the report expresses continuing concern about the IRS's practice of automatically filing tax liens based on a dollar threshold instead of basing lien-filing decisions on an analysis of the taxpayer's financial situation. The National Taxpayer Advocate believes that such an analysis "should balance the need to protect the government's interests in the taxpayer's assets with a corresponding concern for the financial harm the lien will create for that taxpayer."
In FY 2012, TAS will work with the IRS to fully evaluate the results of its limited changes to the lien-filing process and identify additional opportunities for improvement. In addition, TAS is conducting its own study of the impact of lien filings on future tax compliance and will refine its recommendations based on the study results.
OTHER AREAS OF FOCUS
Additional areas on which the National Taxpayer Advocate intends to focus in the coming year include the following:

Taxpayer Impact of Possible Government Shutdown. As part of the federal government's preparations for the possibility of a government shutdown earlier this year, the IRS revised its contingency plan to identify the limited functions it could perform.
Tax Reform and Tax Complexity. The National Taxpayer Advocate will continue to engage the taxpaying public in a dialogue about fundamental tax simplification. To date, TAS has received some 1,500 comments. A selection of these comments is posted at http://www.taxpayeradvocate.irs.gov/2012-Objectives-Report
Earned Income Tax Credit (EITC) Improvements. The EITC is often criticized for the relatively high level of "improper payments" associated with the credit. In FY 2012, TAS will review proposals and apply previous research findings to help reduce EITC noncompliance.
Tax-Related Identity Theft. Despite significant IRS efforts to reduce tax-related identity-theft problems, the IRS continues to experience difficulties in expeditiously resolving these cases and TAS's identity theft-related cases continue to increase.
Innocent Spouse Relief. The tax code currently contains "innocent spouse" rules designed to shield individuals from responsibility for joint tax liabilities generally attributable to their spouse (or former spouse) in appropriate cases.
About the Taxpayer Advocate Service
The Taxpayer Advocate Service is an independent organization within the IRS whose employees assist taxpayers who are experiencing economic harm, who are seeking help in resolving tax problems that have not been resolved through normal channels, or who believe that an IRS system or procedure is not working as it should. If you believe you are eligible for TAS assistance, you can reach TAS by calling the TAS toll-free number at 1–877–777–4778 or TTY/TDD 1-800-829-4059. For more information, go to http://www.irs.gov/advocate. You can learn about your rights and responsibilities as a taxpayer by visiting our tax toolkit at http://www.TaxpayerAdvocate.irs.gov. You can get updates on hot tax topics by visiting our YouTube channel at http://www.youtube.com/tasnta and our Facebook page at http://www.facebook.com/YourVoiceAtIRS, or by following our tweets at http://twitter.com/YourVoiceatIRS.
Related Links:

###