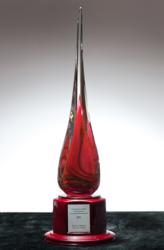 "Parducci sets a high standard for itself and the winegrowing industry. It's a pleasure to recognize America's greenest winery with BRIT's International Award of Excellence in Sustainable Winegrowing." Harry Bartel, Chairman of the Sustainable Winegrowing
Fort Worth, TX (PRWEB) July 05, 2011
The Botanical Research Institute of Texas (BRIT) announced today that Parducci Wine Cellars, one of the oldest wineries in Mendocino County, California, and recognized as America's greenest winery, is the Institute's choice for the 2011 International Award of Excellence in Sustainable Winegrowing. Presentation of the award will be made at the fifth annual Fête du Vin, Wine Dinner and Auction benefitting BRIT. The event will be held on Friday, October 8, 2011, at the Fort Worth Club, 306 West Seventh Street, Fort Worth, Texas.
In announcing the winery's selection, Harry Bartel, Chairman of the Sustainable Winegrowing judging committee said, "We are most impressed with Parducci's strong commitment to the environment. Using certified sustainable winegrowing practices, 100% green energy, recycling 100% of its waste water, and being carbon neutral, Parducci sets a high standard for itself and the winegrowing industry. It's a pleasure to recognize America's greenest winery with BRIT's International Award of Excellence in Sustainable Winegrowing."
The purpose of the International Award of Excellence in Sustainable Winegrowing, which was founded in 2010 by BRIT, is to honor the viticulturists (winegrowers) and viniculturists (winemakers) throughout the world who reflect BRIT's core principles of conservation, sustainability, and wise stewardship of the land. Award recipients receive BRIT's Sustainable Winegrowing glass sculpture and the right to use BRIT's Sustainable Winegrowing logo both in print and electronic formats.
"Our family owned and operated winery is creating both quality wines and a healthier planet," says Parducci Managing Partner Tim Thornhill. "We are committed to sustainable winegrowing practices that yield top quality grapes and wines while protecting the environment and supporting our community and local farmers."
Sustainable Winegrowing award applicants are judged on an 18-point assessment of their organization's accomplishments in sustainable winegrowing, winemaking, and social responsibility practices. They are also asked to submit a bottle of wine for a tasting by the judging committee.
Dr. S.H. Sohmer, BRIT's president and director said, "It is evident that the management of this year's recipient, Parducci Wine Cellars, has made a long-term commitment to achieving a balance between the environment and their business, without compromising current and future resources. It is also highly commendable that Parducci shares the knowledge that it has gained with others in the wine industry through various educational programs."
The 2010, inaugural recipient of BRIT's International Award of Excellence in Sustainable Winegrowing was Hall Wines of St. Helena, California.
About the Botanical Research Institute of Texas
Founded in 1987, the Botanical Research Institute of Texas is an international, scientific research and learning center focused on conservation and knowledge sharing. Based in Fort Worth, BRIT documents the diversity of plant life and conducts extensive research around the world. Current major projects are in Texas, Europe, Peru, and Papua New Guinea. In the last ten years, BRIT scientists have located and described scores of species previously unknown to science.
BRIT's herbarium, a collection of more than one million dried plant specimens representing much of Earth's plant diversity, is among the largest in the United States and is the largest U.S. herbarium not part of a university, botanical garden, or broader natural history museum. Some specimens date back to the late 1700's. BRIT's library houses more than 125,000 volumes of books, periodicals, and journals from more than 100 countries.
BRIT's collections-based research provides information for conservation purposes and is a resource for research scientists, students, teachers, plant enthusiasts, gardeners, hospitals, and many others. BRIT's plant collections and educational programs are open to the public to help fulfill our mission to achieve public understanding of the value that plants bring to life.
In the spring of 2011, BRIT moved into its new sustainable and energy efficient headquarters located in the Fort Worth Cultural District. BRIT.org
About Parducci Wine Cellars
Parducci, established in 1932, is one of the oldest family-owned wineries in northern California's Mendocino County. In April 2004 the Thornhill and Dolan families purchased the winery and set their goal: make Parducci the greenest winery in the United States. The winery has embraced earth-friendly practices that produce the highest quality grapes and wine. By making wine from locally farmed grapes, recycling 100% of the winery's waste water via an on site wetland, using certified sustainable farming practices, utilizing 100% renewable green power and employing earth-friendly packaging, their family-owned and operated company is creating a model of quality and environmental sustainability for other wineries to follow. In recognition of Parducci's status as the nation's first carbon neutral winery and their continuing dedication to social responsibility and environmentally sound practices, they received California's highest environmental award, the Governor's Environmental and Economic Leadership Award in 2007 and 2009.
# # #