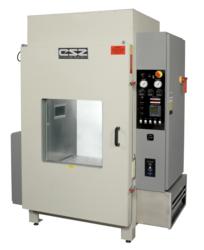 Steven J. Berke, President and CEO, said, "The acquisition of HHSC will strengthen CSZ's position as a leading manufacturer of environmental test equipment..."
Cincinnati, OH (PRWEB) July 06, 2011
Cincinnati Sub-Zero (CSZ) Products, Inc. is pleased to announce the asset acquisition of HALT & HASS Systems Corporation (HHSC) of Denver, Colorado. The HHSC product line will be assimilated into CSZ's Industrial Division which will manage ongoing product development, marketing, manufacturing, sales and service activities. The addition of HALT (Highly Accelerated Life Tests) and HASS (Highly Accelerated Stress Screens) test systems will further broaden CSZ's extensive product line and provide its customers with another state of the art tool to help shorten new product development time, decrease production and warranty costs and significantly improve product reliability.
Currently in use by most major manufacturing organizations, HALT and HASS chambers provide extreme temperature & vibration capabilities used during the product design and manufacturing cycles to compress the time normally required to identify design and process weaknesses. HALT techniques are important in uncovering many of the weak links inherent to the design and fabrication process of a new product. HASS techniques are incorporated during the production phase to find manufacturing process defects that could cause product failures in the field. Industry leading performance levels of these CSZ HALT and HASS chambers include temperature ramp rates up to ±100ºC/min with vibration levels of 1.0 to 90 GRMS. Sound levels, liquid nitrogen consumption and power usage are the lowest in the industry offering compelling return on investment opportunities.
Steven J. Berke, President and CEO, said, "The acquisition of HHSC will strengthen CSZ's position as a leading manufacturer of environmental test equipment by providing customers with a full range of environmental test chambers to improve product reliability. These systems exhibit the design maturity that only years of manufacturing experience combined with the most advanced HALT & HASS techniques can achieve."
About H & H
HHSC was a spin-off of Hobbs Engineering Corporation (HEC), formed in 1978 to provide technology seminars and consulting in accelerated reliability. Dr. Gregg Hobbs, founder and former President of HHSC and HEC, was also the inventor of HALT & HASS techniques.
About CSZ
CSZ was formed in 1940 and is the parent of three separate divisions. The medical division provides temperature management products to the healthcare industry and the testing division is an A2LA Accredited test laboratory providing contract environmental and vibration testing. CSZ's Industrial division provides environmental test chambers, the most valued and competitive in the industrial market, include temperature-cycling chambers, humidity chambers, accelerated stress-testing chambers, thermal-shock chambers, altitude chambers, AGREE vibration chambers, industrial freezers, and more. Please visit http://www.cszindustrial.com for additional information.
# # #