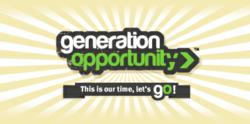 Millennials embrace American exceptionalism. While some seek to blur America's distinction among other nations, young adults are patriotic and enthusiastic about their country - they reject cynicism and view our freedom and democracy as unique
Washington, DC (PRWEB) July 01, 2011
Generation Opportunity – a new, non-partisan organization educating, engaging, and mobilizing young Americans 18-29 concerned about immediate and long-term economic challenges – released new polling numbers today as the nation prepares to celebrate Independence Day.
Since its public announcement on June 1, 2011, Generation Opportunity has become one of the largest and fastest growing organizations targeting young Americans through social media, issue education, and grassroots mobilization. Generation Opportunity' s facebook page – Being American – has rapidly grown to over 650,000 fans.
"Millennials embrace American exceptionalism. While some seek to blur America's distinction among other nations, young adults are patriotic and enthusiastic about their country - they reject cynicism and view our freedom and democracy as unique," said Paul T. Conway, President of Generation Opportunity. "Young people are well aware of the current economic environment and what it means for the future. With a lack of job opportunities and rising debt and federal spending, they believe America is on the wrong track and losing its position as the world leader. They are not patient to sit and wait – they want more opportunity and results."
Young People By The Numbers – Exceptionalism, National Direction, Look Ahead To 2012:
Generation Opportunity recently commissioned a poll with the polling company, inc./WomanTrend (April 16 – 22, 2011, +/- 4% margin of error) and highlights some of the results below.
1. 56% - more than half – indicated their agreement with "American Exceptionalism" – described as an ideal of freedom and democracy exclusive and unique to the United States, only 29% disagreed.
2. 54% believe that things here in the United States have pretty seriously gotten off on the wrong track; only 24% believe that things here in the U.S. are headed in the right direction. 52% indicated they are not optimistic about the country's future.
3. 54% - more than half – are not confident that the US will be a global leader in just 10 years. Only 9% said they were "very confident" that the US would be.
4. While 54% agree they have "more opportunity" than their parents, only 16% think their children will have "much more opportunity" and 27% actually think their children will have less.
5. 69% say political leaders do NOT reflect the interests of young Americans and just 31% approved of the President's handling of youth unemployment.
6. 57% also say they will learn more about the policy positions of Presidential candidates in the 2012 election than they did in 2008.
Conway added, "Elected officials need to understand that young Americans have been patient enough waiting for a change in the status quo. Young people do not believe elected officials in Washington represent their concerns – they are seeking more opportunities to work, they reject dependency on government in their own lives and do not view dependency on foreign governments as an acceptable future for our country."
More About Generation Opportunity
Generation Opportunity is a non-profit, non-partisan 501 c4 organization that seeks to engage everyone from young adults, early career professionals, college students, young mothers and fathers, construction workers, current service men and women, veterans, entrepreneurs and all Americans who find themselves dissatisfied with the status quo and willing to create a better tomorrow.
Generation Opportunity operates on a strategy that combines advanced social media tactics with proven field tactics to reach Americans 18-29. The organization announced its first communications platform – "Being American," a Facebook page that has already amassed a fan base of more than 650,000. The page posts links to relevant articles and reports from sources ranging from the federal General Accountability Office (GAO), The New York Times, The Washington Post, The Brookings Institution, The Wall Street Journal, The Huffington Post and The Heritage Foundation.
Read about Generation Opportunity here and visit "Being American" on Facebook by clicking here.
###