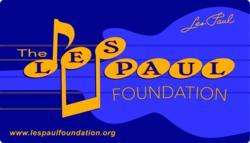 (PRWEB) July 02, 2011
The wildly popular Google Doodle went viral during the 2 days it was on Google's search home page, attracting 740 million visitors, according to analytics from RescueTime. People spent 26 seconds more on the Google home page than normal. Because of its popularity, Google displayed the Guitar Doodle an additional day and gave it a permanent web address in its doodle archives. Shortly thereafter, the foundation received permission from Chief Doodler Ryan Germick to host the Guitar Doodle on the foundation's site: http://www.lespaulfoundation.org/community.
"We're obviously big fans of Les Paul over here and are really glad to have played some part in extending his legacy," said Germick.
The Les Paul Foundation is committed to preserving and extending Les Paul's legacy. "We appreciate Google's generosity and the continued support of all of Les' fans" said Michael Braunstein, Executive Director of the Les Paul Foundation. "Through the foundation we teach the world about Les Paul and his accomplishments. The Google Doodle has attracted thousands as it paid tribute to the man who gave the world the guitar that made Rock 'N Roll."
About Les Paul Foundation
The Les Paul Foundation honors and remembers the life, spirit and legacy of Les Paul by supporting music education, engineering and innovation as well as medical research. Located in New York, the foundation provides scholarships, grants and supplies funds and artifacts for exhibits displaying Les Paul's achievements in the advancement of sound, his performances and his technical accomplishments. Learn more at http://www.lespaulfoundation.org/foundation.
###