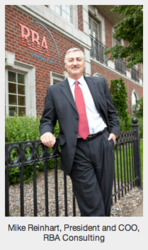 "Microsoft has a very strong current technology platform and a clear roadmap around cloud computing and other offerings that we thought were extremely compelling across those various customer segments." - Mike Reinhart
Minneapolis, MN (PRWEB) July 08, 2011
Minneapolis-based RBA Consulting, a technology and business solutions consulting company, has applied a unique and innovative approach to helping clients face their most challenging information technology problems. This approach has yielded tremendous results for companies evaluating on-premise and "cloud-based" options.
With offices in Dallas and Denver supporting its Minnesota headquarters, and a roster of clients of all shapes and sizes, it is clear that RBA has become a leader in its field by successfully engaging customers with their game-changing methodology.
"Businesses are constantly upgrading and patching their software, and planning for disaster recovery and other technology-related issues, when they should be focused on their core business of selling widgets or providing services to their customers," said Jay Lendl, RBA Consulting's National Business Manager.
Providing custom-tailored solutions to the myriad needs of its clients is where RBA has found its niche. More and more, it is the flexibility of the cloud that allows the firm to change the way businesses look at their technology needs. In fact, there is a solid case to be made for replacing desktop computer software packages and expensive proprietary data centers with remote offsite subscription services.
However, RBA is not simply following trends. The company has developed a proprietary approach to evaluating a business's needs in a manner that assesses its readiness for a move to the cloud.
"Everybody we work with starts in a different place," Lendl said. "We have an approach that really focuses on getting businesses to the desired state in a time and manner that is best aligned with their needs."
This unique approach to developing "Cloud Capable Solutions" involves a comprehensive review of the business. This is accomplished through "solution alignment workshops," which help ensure that any technology approached is properly aligned with the specific business.
From there, two concurrent tracks tackle the technology and financial implications of any proposed solution. The solutions are as unique as the businesses themselves.
"We don't assume anything," Lendl said. "We complete this thorough review and move forward in a planned way."
By evaluating each new customer this way, RBA is able to help move them along regardless of where they are with their technology. Many of the clients have experience with BPOS (Microsoft's Business Productivity Online Standard Suite) and have elements of the IT infrastructure off-premise. For those customers, the move to the cloud is nothing new. But, they are finding a new world of options that offers a host of benefits not seen previously.
The leading driver of cloud-based computing is that it allows a business to focus resources on growing its core instead of managing information technology, a fact that resonates soundly with executives. In addition, cloud-based platforms provide significant cost flexibility, allowing a company to simply pay for what it uses versus having to make significant initial investments based on potential future volume.
"This platform is built to perfect scale for the customer," Lendl said. "If a client needs 500 users, it pays for 500 users. There is additional flexibility to scale up if needed, which allows companies to put off spending for growth until it actually materializes."
Cloud computing represents a shift from the packaged software product toward feature-rich services and applications, and allows RBA Consulting to become more deeply ingrained with their clients. That deeper engagement has led to innovative solutions that provide competitive advantages for RBA and good business for its customers.
"As you start to look at the cloud as part of our work with customers, it allows us to shape and define our services in a much more strategic nature," said Mike Reinhart, President and COO of RBA Consulting. "In turn that enables us to help them leverage these platforms rather than installing and upgrading platforms, which costs significant capital and often feels like a lot of effort for very little gain."
While the solutions may increasingly forego the typical software-in-a-box upgrades, there are some things that do not change. Microsoft's Office productivity suite remains the software of choice for a majority of the customers. Only now, the product is provided as a service from Microsoft under the company's Office 365 brand.
With its position as the most popular business and personal productivity software in use today, it should come as no surprise that Microsoft has embraced the move to the cloud and developed a product that continues the evolution of the Office brand. The Office 365 suite offers the next level of improvements on the BPOS solutions, making it particularly attractive to businesses.
"The formation of RBA Consulting was centered on the strategic partnership with Microsoft," Reinhart said. "Microsoft has a very strong current technology platform and a clear roadmap around cloud computing and other offerings that we thought were extremely compelling across those various customer segments."
Businesses are finding the dollars and cents of moving to the cloud to be the real story. Beyond the buzz and hype, it is the numbers that are making headlines.
"The cloud is not just useful for finished applications," RBA's Tom Moen said. "Custom applications can be hosted on the cloud and can be delivered affordably. For one customer, we turned a potential $13-million capital investment into a $4,000 monthly fee with the same level of service to their customer."
With painful technology upgrades and migrations a common productivity killer for businesses, it may be the ease of transition and the "soft landing" in the cloud that wins over CIOs and CEOs alike.
"We had a client in St. Louis who needed to move 680 people off its infrastructure and onto a separate platform with full messaging, collaboration, conferencing and web presence in less than a week," Moen said. "We received the call on Thursday evening and were given a deadline of noon the following Monday. With cloud services, we were able to upload their data into the cloud, and did it by Monday. We successfully completed a project, which would traditionally take six months, within a few days."
To read the complete case study on RBA Consulting's success with
migrating businesses to the cloud, visit the Cloud Innovators microsite at the Wall Street Journal's website.
Key innovators:
Mike Reinhart: RBA Consulting President and COO
Tom Moen: RBA Consulting National Solutions Lead – Cloud Computing
Jay Lendl: RBA Consulting National Business Manager
###