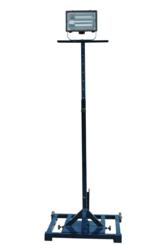 We have designed this mounting solution to make it easier for the operator to deploy collapse and move our explosion proof and hazardous location lighting.
Kemp, TX (PRWEB) July 27, 2011
Larson Electronics' Magnalight.com has released a new series of wheeled light towers with tilting stands designed to make deployment safer and easier for single operators. Suitable for wet areas and carrying a Class 1, Division 2 rating, these towers can illuminate 25,000 square feet of work area. Designed to provide protection in locations where flammable vapors and gases may occasionally be encountered, these extendable light towers provide an added degree of safety and convenience during deployment as well as during operation.
The HAL-1X400MCE extendable wheeled light tower is designed to allow a single operator to quickly and easily deploy and raise this unit with minimal effort. Constructed of non sparking aluminum finished in a powder coat, the base on this tower incorporates a slide and tilt design that allows the user to tilt the tower assembly back while extending the lamp fixture to the desired height. This tilt and raise design reduces the effort needed to raise the lamp and allows a single operator to manage deployment without having to support the entire weight of the lamp assembly while raising it. This tower assembly can be lowered to 5 feet and extended to a maximum of eight feet and is easily disassembled for transport. The metal halide lamp on this unit is rated at 400 watts and produces enough light to illuminate a 25,000 square foot area. Internal multi-tap ballast allows this unit to operate with voltages ranging from 110VAC to 277 VAC using jumpers for versatile power connection options. The 39 inch by 35 inch base is equipped with non static producing tires and allows the entire tower to be easily moved from one location to another within the workspace. UL rated Class 1, Division 2 Groups C and D, this unit is suitable for use in wet areas and marine locations where water and dampness may be encountered. Included with this extendable light tower is 50 feet of 14/3 SOOW yellow cord with ECP 1523 Class 1 Division 1 explosion proof straight blade plug. This plug is designed to be used with explosion proof receptacles as well as common general use outlets although an approved explosion proof receptacle must be used to retain the plugs explosion proof rating.
"We have designed this mounting solution to make it easier for the operator to deploy collapse and move our explosion proof and hazardous location lighting," said Rob Bresnahan with Larson Electronics' magnalight.com. "Typically, the lighting payload at the top of the tripods is more than 50 pounds, which can make it difficult to elevate. With our HAL-2X400MCE model, operators can lean the tripod mast over on to the support upright, position the lights and the elevation of the mast and then raise it into position. The light head can also be removed and stored separately on the base, making it easy and safe for the operator to pull the light tower behind him."
Larson Electronics' Magnalight.com carries an extensive line of explosion proof light towers, hazardous location lights, intrinsically safe lights, oil rig lights and explosion proof tank lights. You can view Larson Electronics' entire Magnalight line of explosion proof lighting at Magnalight.com. Magnalight can be reached directly by calling 1-800-369-6671 or 1-214-616-6180 for international inquiries.
# # #