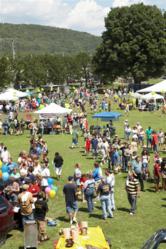 If you love wings, you will love this event that benefits Monroe County Meals on Wheels.
Bushkill, PA (PRWEB) July 03, 2011
On Sunday, August 14, 2011, Fernwood Hotel and Resort will host the 16th Annual Pocono Chicken Wing-Off to benefit Monroe County Meals on Wheels from noon to 4:00 pm on the Fernwood Hotel and Resort Great Lawn.
Fernwood Hotel and Resort festival attendees pay as they go for wings, beverages and other food. Proceeds from the wings sold go to Meals on Wheels which generates over $16,000 from the event annually which is their single largest fundraiser. Gina Bertucci, spokesperson for Fernwood Hotel and Resort, said, "This is a great way to spend a weekend at Fernwood Hotel and Resort in the Pocono Mountains and eat lots of wings. We recommend extending your stay to be sure you experience all the great things to do in the Poconos. Splash at Camelbeach, hike at Bushkill Falls, relax with a canoe ride down the Delaware then go to the Pocono Chicken Wing-Off and vote for the best wings in the Pocono Mountains."
Pocono Chicken Wing-Off festival and stay packages start from just $268 and include two nights of hotel accommodations and twenty tickets to sample over 50 different kinds of wings. Wings are judged in four categories: Chef's Choice, Most Original and the Grand Prizes, People's Choice for Hottest Wing and People's Choice for Best Tasting Wing. Category winners receive an award plaque, radio and print advertising, billboards, and a $350 check donated by sponsors Penn National Gaming, Whitebriar Financial, ESSA Foundation, RCI and Stone Trembly and Associates.
Guest judges are celebrities, chefs, and other local wing enthusiasts with voting for "best wings" done by attendees. The event schedule includes live music, craft and food vendors and a Pepsi play area with giveaways. For event information go to PoconoChickenWingOff.com.
Fernwood Hotel and Resort is a 440 acre four season Pocono Mountain resort located on Route 209 just minutes from the Delaware Water Gap, PA with villa and hotel accommodations. For wing and stay package information go to FernwoodHotel.com or call 888-FERNWOOD (888-337-6966).
###