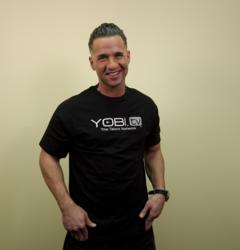 Detroit, MI (PRWEB) July 07, 2011
YOBI.tv, the online talent competition network named one of June's biggest web sensations by MSN.com, has announced the winners of its June YOBISing, YOBILaugh, YOBIFilm and YOBIPics contests. These winners will showcase their talents in the upcoming web series "Random Talent," starring Mike "The Situation" Sorrentino, set to film in Detroit, Michigan in early September 2011.
The winners are:
YOBISing:
Katee Lee – Brampton, Ontario, Canada
Meggan Archey - Boise, Idaho, USA
Tebby Burrows – West Palm Beach, Florida, USA
These three finalists will star in "Random Talent" as the three frontrunners of the televised singing competition that Mike Sorrento's character is judging. The finalists will not know where they placed in the YOBISing contest until they watch the talent competition unfold in the web series.
YOBILaugh
Kandyce Gabrielsen – Roy, Utah, USA
Kandyce will receive a cast role in the web series.
YOBIFilm
Justin Patten – Valdosta, Georgia, USA
Justin will join the "Random Talent" film crew.
YOBIPics
Paul Blackburn – Valdosta, Georgia, USA
Paul will join the "Random Talent" film crew and help with on-set still photography.
The "Random Talent" comedy web series will star Sorrentino as an over-the-top hip hop star asked to be a judge on an "American Idol"-style televised singing competition.
YOBI.tv is a user-based interactive talent competition encompassing the fields of acting, singing, comedy, filmmaking and photography. With its namesake the yobibyte, the largest assignable unit of digital information, YOBI.tv strives to be the largest gathering place in the world for aspiring talent and the future of entertainment.
###