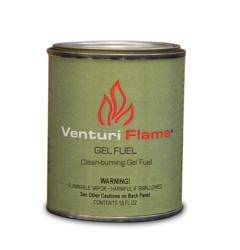 Safety tested gel-fuel, approved by UL.
Minneapolis, MN (PRWEB) July 03, 2011
Recently there have been several news stories relating to pourable ethanol fuel safety. It is unfortunate to know that harm may have occurred during use of these products, and helpful for consumers to know that here are different types of safety-tested gel fuels available for use on the market today for use with ventless indoor/outdoor fireplaces and fire pit tables.
The Outdoor Greatroom Company's Venturi Flame (VF) gel fuel and gel-burning products are different from pourable gel products as clarified below:
Venturi Flame gel fuel is made from premium-grade isopropyl alcohol (not ethanol) and comes in a can, not a bottle. It is a viscous gel that is not pourable and it will not break down or separate. VF gel has been through intensive UL (Underwriters Laboratory) testing for safety and has been proven safe when used as directed, including for use with all OGC gel-burning products. To ensure safe use, OGC outlines specific usage instructions for their gel fuel products. They indicate that pourable fuels are not approved and should never be mixed with Venturi Flame gel (viscous gel) nor poured into a hot can. Additionally, gel-fuel cans should not be reused once all gel has burned through.
Venturi Flame gel fuel is clean-burning, non-toxic, and leaves no soot, smoke or ashes behind so there's no messy clean up. The flame created by this fuel has a crackle like a realistic wood-burning fire. Each can burns for approximately 80-90 minutes, and can be re-capped and re-lit at a later time for shorter fires until all gel has been used. It comes in individual 14oz. cans (24 cans per case) and can be purchased online.
In Summary some key differences between Venturi Flame Gel Fuel and pourable ethanol fuel:

It is a viscous (thick) gel, not a pourable material.
Comes in a can vs. a bottle.
Safety tested and UL listed for use with all of the OGC gel-burning products.
Isopropyl alcohol based, not ethanol based
About The Outdoor Greatroom Company
Founded by industry veteran Dan Shimek, co-founder of Heat-n-Glo fireplaces, The Outdoor Greatroom Company develops unique, upscale products for outdoor living and entertaining including gas and electric grills, outdoor kitchen islands, gas lights, fireplaces (gas, electric and gel), campfires, heaters, outdoor furniture, pergolas and more.
###