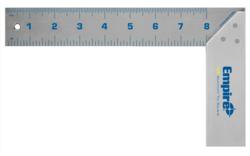 Mukwonago, WI (PRWEB) July 05, 2011
Empire Level Manufacturing Corporation announced today the introduction of its model 122 Etched Stainless Try Square and model132 Anodized Aluminum Engineered T-bevel, extending the company's range of high-visibility heavy-duty True Blue® squares.
The "new to market" Try Square features a stainless steel etched blade that prevents rust and corrosion while improving the visibility of the graduations. The Try Square also features milled 90- and 45-degree faces on the heavy billet aluminum handle that allow the user to check both square and miter angles, which is particularly useful when setting up blades on saws and stationary tools.
"Improved visibility of the graduations is the most important feature to the Try Square user," said Ged King, Director of Marketing for Empire Level. "Designed with both accuracy and durability in mind, we're confident that our new Try Square will soon become favorites among construction professionals and woodworkers who have told us they are seeking layout tools that easier to read in all lighting conditions."
The 132 T-bevel features a unique knurled low-profile locking nut that allows for either left or right hand use, and has an adjustable 9" steel blade. "End users have often reported that they only have one hand free when trying to use a T-Bevel to transfer angles. With this low profile locking nut design, the user can tighten the blade with one hand – a big improvement over the other models on the market today," said King.
The new Empire Level 122 Try Square and 132 T-bevel are now available at hardware stores, retail outlets and online stores throughout the United States.
About Empire Level (http://www.empirelevel.com)
Empire Level is the home of TrueBlue® - the most accurate vials in the world. The blue fluid in Empire level vials is a unique symbol of superior accuracy and a trademark of Empire Level Mfg. Corp. For over 90 years, Empire has been the leading designer and innovator of accurate and durable measuring tools for the professional and end user. More information about Empire and its products can be found at: http://www.empirelevel.com.
###