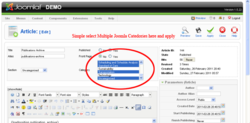 The Multi-Category component has been purchased by over 50 developers and has been getting great reviews
Dallas, TX (PRWEB) July 02, 2011
US Joomla Pros (USJoomlaPros.com) today announced it has released the first 1 click installable Joomla article Multi-Category component. Addressing what quite possibly is the most frustrating restriction of the Joomla CMS, Shawn Prendergast and his team of Joomla developers at US Joomla Pros set out to create an intuitive, easy to use 1 click installable component that would allow the non-technical Joomla site owner to be able to assign articles to multiple categories using a simple point and click method.
Scott Prendergast, US Joomla Pros project manager, tells us, "The Joomla article multi-category component has been received VERY well by the industry and been downloaded and installed on 50+ Joomla sites in the first 30 days of its release."
Shawn Prendergast, who heads up the US Joomla Pros development team, was very proud of this project, "I have been developing Joomla websites for over 5 years, and the issue of not being able to assign an article to multiple categories has always been something I have wanted to fix, and now we have ! I hope this helps other Joomla developers."
Scott Prendergast added, "The Multi-Category component has been purchased by over 50 developers and has been getting great reviews."
About US Joomla Pros
USJoomlaPros (USJoomlaPros.com) is a subsidiary company of The Website Design Exchange, based out of Dallas, TX and operated by Scott Prendergast and Shawn Prendergast. US Joomla Pros is a high end web development company that specializes in the Joomla CMS as well as creating custom Joomla developement, Joomla components, Joomla modules, and Joomla plugins.
To contact US Joomla Pros (USJoomlaPros.com):
Scott Prendergast
scottpjr(at)gmail(dot)com
972-859-0369
Shawn Prendergast
shawn(at)usjoomlapros(dot)com
214-274-9840
###