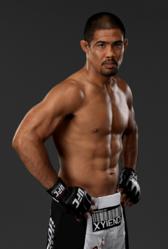 Las Vegas, NV (PRWEB) July 01, 2011
XYIENCE, the maker of Xenergy, the official energy drink of the UFC®, and the ABC Store, invite mixed martial arts (MMA) fans to meet XYIENCE team athletes, Mark Munoz and Anthony Pettis, who fight in the UFC's middleweight and lightweight divisions, respectively. Munoz and Pettis will be signing autographs at the ABC Store located in the Blue Green Resort (378 E. Tropicana Blvd. #100 Las Vegas) on Saturday, July 2, 2011 from noon to 2 p.m. The event coincides with UFC® 132: Cruz vs. Faber, that will also take place on July 2 at Las Vegas' MGM Grand.
"As a fighter, coming to Las Vegas is a special experience. The locals love MMA and on a UFC weekend, the entire city is fired up," says Munoz, who secured a victory by decision over Demian Maia, at UFC 131® Dos Santos vs. Carwin in Vancouver on Saturday, June 11. "Many thanks to XYIENCE for putting this event together. Anthony and I are looking forward to meeting the fans and getting everyone psyched for UFC 132."
Pettis is especially looking forward to being in Las Vegas, as later that evening his XYIENCE teammate Wanderlei Silva faces Chris Leben in a middleweight bout.
"Silva has always been one of my favorite fighters," says the 24-year old who captured the final World Extreme Cagefighting (WEC) Lightweight title in Dec. 2010. (The WEC later merged with the UFC) "I'm excited to be back in Las Vegas and invite all the local and visiting fans to come out and meet Mark and me on Saturday."
For more information on XYIENCE, Xenergy, Mark Munoz or Anthony Pettis, please visit http://www.xyience.com.
About XYIENCE (pronounced zy-ince)
Headquartered in Las Vegas, XYIENCE products support an active and healthy lifestyle and are held to the most stringent standards of excellence. Visit http://www.xyience.com for details.
Xenergy (pronounced zen-er-gy)
Xenergy is the official energy drink of the Ultimate Fighting Championship (UFC) and is one of the fastest growing brands in its category. The first energy drink created by a nutrition company, Xenergy is a sugar- and calorie-free drink that's fortified with vitamins. All-natural flavors provide a consistent supply of energy, without the "crash" inherent in most other energy drink brands. Xenergy Premium flavors include Cherry Lime, Cran Razz, Mango Guava and Blu Pom. Xenergy Xtreme flavors include Fruit Punch, Orange Fuel, Citrus Slam, and Cherry Rush. Xenergy is available throughout the United States and Canada.
###