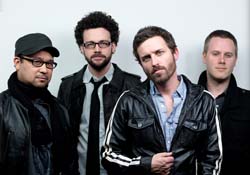 Los Angeles, CA (PRWEB) July 06, 2011
For the upcoming release of the film 'A Little Help,' starring Jenna Fischer and Chris O'Donnell, indie rock band Louden Swain has contributed a new original song for the movie's soundtrack.
The band's frontman, actor Rob Benedict, plays opposite Fischer in the role of her longtime admirer and brother-in-law "Paul" in the film. The song, "Help You," is played by Benedict's character in a key sequence in the film, and the studio version plays over the closing credits.
Louden Swain has been a mainstay on the LA indie scene over the last decade with three previous full album releases, a new release currently scheduled for this October, and a European Tour scheduled for later this year.
The "A Little Help" soundtrack will be digitally released July 19 with the movie to be released in select theaters July 22.
A LITTLE HELP – Original Motion Picture Soundtrack
1. Down In A Hole (You've Got To Stop Digging) – Jakob Dylan
2. You're No Match – Jakob Dylan
3. No Season At All – Jakob Dylan
4. Runaround Sue (New Version) - Dion
5. If You Want To Rock And Roll – Dion and Zach Page
6. I'm Lucky – Céleigh Chapman
7. Help You – Louden Swain
8. Kyle's Guitar Solo – Zach Page
9. Receiving (Score) – Austin Wintory
10. Twenty Years Too Late (Score) – Austin Wintory
More information on Louden Swain can be found at LoudenSwain.com or through their recently released iPhone app available on the iTunes app store.
http://twitter.com/LoudenSwain1
http://www.facebook.com/LoudenSwainMusic
###