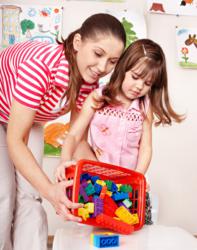 (PRWEB) July 02, 2011
Sitter City is a website that connects parents with caregivers. It was created by Boston College student Genevieve Thiers as a service to for parents in need of child care and students in need of supplemental income. Since then, it has grown to become a nationally reputable website that offers parents a reliable and efficient way to find a baby sitter or nanny online.
With Sitter City, caregivers are required to offer references and complete a user profile that lists previous experience, skills and certifications, and a profile picture. Parents can choose a sitter that is the best fit for their needs, from those that are CPR certified to those that can provide special types of care. Caregivers have the ability to list special circumstances with which they are comfortable, so parents can find someone who will be able to adequately care for their children. There is also a section of the site specifically geared towards families with special needs children, so parents can find someone reliable and comfortable with their child.
Caregivers may also undergo a background check that verifies the name and personal information of every sitter. The background check also checks and reports any criminal history, so parents can be assured that they are leaving their child with someone safe and reliable. The website also lists references and reviews from other users, so parents can check every sitter's previous work.
Sitter City offers parents many resources to help them choose a caregiver that is right for them. There is even a section that lists the steps parents should take in choosing a sitter. The website suggests narrowing sitters down to the ten top choices. When these choices have been made, parents are advised to check each sitter's reviews and references before interviewing each one in person.
Sitter City even provides a section of suggested interview questions and guidelines. These questions range from general experiential questions to more specific ones. This tool can help parents avoid the pitfalls of hiring a sitter, and ensure that parents are comfortable leaving their children with a Sitter City caregiver.
There is also a section devoted to helping parents decide which kind of caregiver they need. Babysitters provide care at an hourly rate and usually work for multiple families. Nannies usually live in the home or visit the home daily and provide consistent, daily care to children. While there are other types of caregivers, these are the two most commonly found on the website.
New users can find various promotions online that offer a percentage off membership fees. These promotional codes can be entered at the website and take between 10% and 25% off a membership. There are also various other promotional offers that new members can try. While the membership fees can initially seem overwhelming, the website offers invaluable services and peace of mind that can be hard to find elsewhere.
Sitter City also offers other services on its website. There are sections for pet sitters, elderly care, housekeeping services, and tutors. These service providers are held to the same standard as the childcare providers, and the site also offer reviews of their services.
Visit Sitter City At MyReviewsNow Today.
# # #