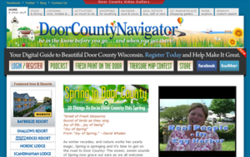 Be in the know before they go . . . and when they get there! (tm). Your best trip to Door County Wisconsin starts on DoorCountyNavigator.com.
(PRWEB) July 15, 2011
US Joomla Pros (USJoomlaPros.com) today announced the launch of DoorCountyNavigator.com. US Joomla Pros was hired to integrate multiple components, plugins and modules, as well as to customize the Mosets Tree business listing component and its menu and module assignments. US Joomla Pros also designed and developed a customized trip planner module that will allow for registered users to save and view their selected Door County dining establishments, Door County Resorts and Door County shopping destinations.
Shawn Prendergast, who heads up the US Joomla Pros development team, added, "I know it sounds cliche, but Joomla development is what we do. We try and provide easy to use, full featured Joomla components, modules and plugins that will help other Joomla developers and the Joomla community as a whole."
Dan Silvestri, owner and operator of the DoorCountyNavigator.com website, tells us, "It has been great working with Shawn at US Joomla Pros. They have been an integral part of the ongoing development and upkeep of our site, and we will continue to use them to make DoorCountyNavigator.com the #1 internet destination for people visiting Door County, WI."
Scott Prendergast, who is US Joomla Pros Director of Business Development is proud to add DoorCountyNavigator.com to US Joomla Pros growing list of happy and satisfied clients.
About US Joomla Pros
USJoomlaPros (USJoomlaPros.com) is a subsidiary company of The Website Design Exchange, based out of Dallas, TX, operated by Scott Prendergast and Shawn Prendergast. US Joomla Pros is a high end web development company that specializes in the Joomla CMS as well as creating custom Joomla development, Joomla components, Joomla modules, and Joomla plugins.
About DoorCountyNavigator.com
DoorCountyNavigator.com is a complete destination travel site for anyone looking to travel to the Door County Wisconsin peninsula and is the largest independent Door County, Michigan website. DoorCountyNavigator.com offers a complete travelers guide so that you can find the best. Users can easily find the lodging they are looking for, places to dine, things to do and where to play, where to shop and even how to purchase your dream property in this unique Midwest vacation destination - and can manage all their data in a handy online Trip Planner.
To contact Scott Prendergast or Shawn Prendergast at US Joomla Pros (http://www.USJoomlaPros.com):
Scott Prendergast
scottpjr(at)gmail(dot)com
972-859-0369
Shawn Prendergast
shawn(at)usjoomlapros(dot)com
214-274-9840
###