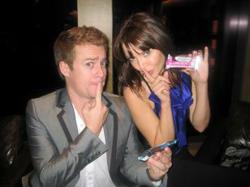 Slim Secrets are your smart snacking secret weapons now available in the UK!
Australia (PRWEB UK) 5 July 2011
The snack aisle in UK just got more interesting with the introduction of Slim Secrets™ snacks. Launched in 2005 in the Australia, Slim Secrets have become a favourite among health and fitness conscious snackers around the globe.
Now UK snackers can have their snack and eat it too, at Harvey Nichols (international luxury shopping destination) alongside some of the world's most prestigious brands and also online at http://www.slim-essentials.com
Slim Secrets is Australian owned and operated and is an innovative organization providing individual nutritional solutions to consumers." Our philosophy is to promote a healthy lifestyle, be the secret weapon for your snacking dilemmas and engage consumers through valuable secrets. At the same time, Slim Secrets is the insightful, fun, open and compelling brand that knows how to handle your cravings" says CEO and founder Sharon Thurin
The range of products not only tastes great but has the right balance of fats/carbohydrates and proteins offering consumers guilt-free snacking while at the same time supporting their wellness goals.
The products include high protein, high fibre bars, gluten free bars, delicious protein cookies and protein 'shake n take' drinks.
.
"All the low-fat, low carb, low calorie health talk has been taking the flavour, not to mention the fun, out of snacking," said Sharon. "Since going on a mission to make snacking fun again in Australia; we've received countless requests from consumers throughout UK anxious to try Slim Secrets. So I'm thrilled to say they can now purchase them in the UK."
"More and more, UK snackers are looking for healthier choices without sacrificing taste," says the Slim Secrets UK sales & marketing manager Jordi Bloomberg from Slim Essentials
. "In keeping with our commitment to provide a diverse assortment of convenience food we're excited to be exclusively introducing a new snack to our customers that's both healthier and delicious."
Slim Secrets have consistently won hearts and awards and have been presented to celebrities for the Oscars and the Logies here in Australia.
. To learn more about Slim Secrets in the UK you can visit the website http://www.slim-essentials.com or Slim Secrets global on http://www.slimsecrets.com.au, email info(at)slimsecrets.com.au or phone +61398223121
###