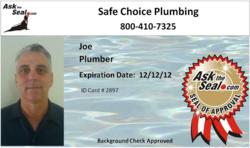 Find a company with the Seal of Approval on AsktheSeal.com
Tampa, FL (PRWEB) July 13, 2011
When consumers hire a company with the Seal of Approval from AsktheSeal.com, they receive an email with a photo and verification of a criminal background check of the employees coming to their home or business. AsktheSeal.com doesn't take the company's word for it, they perform the national criminal and sex offender background checks and issue the photo ID badges to employees who pass their annual checks.
Many companies claim to background check their employees when they in fact do not. Companies that do perform background checks often only do local checks and often have no clear criteria for disqualifying offenses. Most companies only perform checks when they hire the employee and have a difficult time proving it to consumers without violating their employee's privacy. AsktheSeal.com is a third party who performs and verifies annual criminal background checks on employees and issues annual photo IDs verifying the background checks.
The service which was launched in Orlando Florida, has expanded to Tampa Bay/Sarasota and is in the process of a national roll out. Company founder and President Ed Marchiselli stated, "This is a win/win for consumers and businesses. Consumers get a very valuable service and peace of mind at no cost and reputable companies who do business the right way have an inexpensive and verifiable way to distinguish themselves from the irresponsible companies or individuals who are tarnishing the reputation of their trade." The company is enjoying very positive word of mouth and has attracted over 3,000 fans to its Facebook page http://www.facebook.com/asktheseal in a very short time.
About AsktheSeal.com.
AsktheSeal.com is a 3rd party Seal of Approval that verifies company license, insurance and customer service record as well as performs annual national criminal and sex offender checks on employees who interact with the public or their personal information. http://www.AsktheSeal.com is a free service to consumers where they can find licensed, insured companies who perform background checks on their employees. Consumers do not have to register or enter any personal information. Unlike many other business referral websites, Seal Approved companies do not pay lead fees when a consumer finds them on http://www.AsktheSeal.com.
# # #