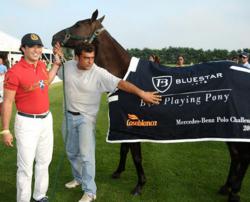 Polo - the game of royalty
Bridehampton, NY (PRWEB) July 05, 2011
The sporting event that epitomizes a quintessential summer afternoon in the Hamptons will return with the 15th Anniversary Season of Bridgehampton Polo. Set to take place at Two Trees Farm for six consecutive Saturdays from July 23rd through August 27th, five hundred Hamptons tastemakers will be invited to sip on fine bubbly and mingle in the new, exclusive Blue Star Jets VIP Tent while taking in the thrills of polo action on the CIRCA Championship Field.
Co-Founder and Owner of Bridgehampton Polo Club Peter Brant says, "We are looking forward to celebrating our 15th Anniversary and have plans for an exciting season ahead. Once again Bridgehampton Polo Club will host some of the top polo players in the world and we look forward to welcoming our sponsorship partners and the thousands of fans who are expected to join us this season," continues Brant.
Amongst the players that will take to the CIRCA Championship Field for the Monty Waterbury Cup (July 23 – August 6) and the Hamptons Cup (August 13 – August 27) are Nacho Figueras, polo star and "promotional face" of Polo - Ralph Lauren, as well as high-goalers Mariano Aguerre playing for White Birch, Tomas Garcia del Rio playing for Certified and CIRCA high-goaler Christian "Magoo" La Prida.
Having played the Sport of Kings himself for years, CIRCA's Chairman and CEO Chris Del Gatto says "After having a great run last season with the Circa Polo Team, we could not be more excited to come back for this precedent setting season as the sponsor of the CIRCA Championship Field."
With high goal polo action as the backdrop, guests in the VIP Tent of the premier Private Jet Charter Company, Blue Star Jets, will be treated to a new level of sophistication and entertainment including live musical performances, fashion boutiques, celebrity hosts, notable chefs, specialty bars and more.
This season for the first time, a limited number of prime field side tables under the Blue Star Jets VIP tent will also be made available for guests interested in the ultimate entertainment experience for friends, colleagues or clients. With seating for up to 10 guests, each table can be purchased for the season at $10,000 and will feature a personalized level of service. President of Blue Star Jets Todd Rome says "After being a proud supporter of Bridgehampton Polo for many years, we are thrilled to come on board in an even bigger way where this season. VIP guests can expect a level of luxury and service synonymous with the Blue Star Jets name," continues Rome.
Additional options for polo fans include field side tailgate tents available for purchase for the season or simply enjoying the afternoon in the grandstands with $20 gate entrance fee.
After working closely with Bridgehampton Polo Club over the last five years, Strategic Group has handed the baton over to Shamin Abas Public Relations who has built a strong reputation in the world of polo and the luxury lifestyle that surrounds it. Strategic Group's Noah Tepperberg says, "With Strategic Group involved in many projects outside of the Hamptons area this summer, we are pleased to hand the operation off to Shamin and her team. Based on their success with International Polo Club Palm Beach and some of the world's top polo players we expect polo goers to enjoy the experience they will bring to Bridgehampton Polo Club," Tepperberg continued.
About Bridgehampton Polo Club
Bridgehampton Polo Club is located at Two Trees Farm at 849 Hayground Road in Bridgehampton New York. The 201115th Anniversary Season will commence on July 23rd for six consecutive Saturdays concluding August 27th. For up-to-date polo information, please contact the Bridgehampton Polo Line at 631-613-1377. For more general information or questions regarding Polo 2011, please email bhpolo(at)shaminabaspr(dot)com. For information about the Blue Star Jets VIP Tent, please email ToddRome(at)BlueStarJets(dot)com For media or sponsorship inquiries, please contact Laurie Zuckerman of Shamin Abas Public Relations at 561.366.1226 or 561-869-9670 (cell) or via email at laurie(at)shaminabaspr(dot)com.
###