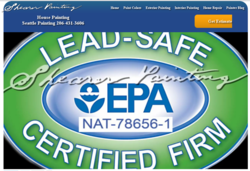 Lead Safe Practices protect building occupants and workmen.
Seattle, WA (PRWEB) July 07, 2011
Clearly, breaking the new law can hurt both RRP firms and their clients. Seattle-based painting contractor Shearer Painting announces it is EPA lead-safe certified and consistently employs the agency's approved work methods. Shearer conducts lead-based repair, renovation, and house painting activities and has fall protection in compliance with OSHA. The company handles both interior and exterior painting projects with a deep dedication to environmentally sensitive practices. Find out how to find a certified lead renovator.
The Environmental Protection Agency reports on their press release website that significant fines have been levied against contractors not conducting lead safe practices as mandated by law. In April 2008, the Environmental Protection Agency formulated a new policy regarding firms that specialize in repair, renovation, or house painting. The RRP Rule, which took effect in April 2010, is designed to minimize both worker and client exposure to lead paint flakes or dust.
In buildings constructed before 1978, when the U.S. banned lead paint, RRP workers tend to generate a significant amount of lead debris. Those who work on apartment buildings, houses, child-care centers, and some schools must be trained in lead-safe practices, and their employer must be certified according to EPA requirements. The maximum fine for violating the law is $37,500 per violation per day. The RRP Rule requires workers to contain their work area, minimize dust, clean up thoroughly, and provide appropriate literature regarding lead safety to tenants or homeowners.
Although these demands seem like common sense, some firms still run afoul of the new law, usually to cut corners and save money. As reported by EPA inspector David Deegan, (617) 918-1017, through the EPA website; A contractor in Rockland, Maine, currently faces penalties for violating the RRP Rule during an October 2010 repainting project. According to inspectors from the EPA and the Occupational Safety and Health Administration, the contractor's workers didn't contain the debris created by their removal of lead paint. In addition, though he attended an EPA-approved eight-hour training course, the contractor failed to properly train and supervise his employees.
About Shearer Painting
Shearer has been a Seattle painting contractor since 1990. In addition, the company has been a member of Painting and Decorating Contractors of America, the largest trade association specific to the house-painting industry, joining in 1994. Shearer has maintained the same leadership team since 1999, and its managers and workers receive ongoing training.
###