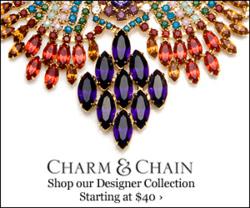 (PRWEB) July 04, 2011
Charm & Chain emerged on the Internet in 2008 as a retailer offering carefully-selected jewelry pieces. Although numerous competitors have created their own websites, Charm & Chain's popularity comes from its careful selection of items and devotion to fashion trends. Each piece has been chosen to fit a range of budgets and styles.
The company has earned accolades from dozens of fashion sources including the DailyCandy, Fashion Group International, and Refinery 29. Reviewers compliment Charm & Chain's assortment of pieces and their creative stable of designers. A convenient list of press mentions can be found by clicking on the Charm & Chain in the Press link in the About Charm & Chain section.
The jewelry at Charm & Chain is separated into categories for easy perusal. People who prefer a certain type of item may enjoy the Bracelets, Earrings, Necklaces, or Rings categories. Pieces in the Vintage category have been chosen from appropriate sources and cleaned up for sale. Because every Vintage item has aged gracefully through its lifespan, minor imperfections on a piece's beauty may be visible under certain lighting conditions.
The As Seen In category caters to customers who want to look like their favorite celebrity. Members of the fashion industry have selected the Editors' Pick pieces, and the One of a Kind category has items that are only found at Charm & Chain. Each piece in Charm & Chain's collection may fit into multiple categories.
A dedicated search engine allows customers to sort pieces by designer, price, or type of item. Each piece is also tagged with several descriptive labels. For example, the tags system includes Animal-Inspired, Evening, and Turquoise labels. The tags help customers search for pieces that fit a particular style.
Charm & Chain employs an international roster of designers to create its pieces. Each designer has a short biography on the website to explain their design philosophy, and Charm & Chain includes the designers' pictures. Customers can see exactly who created their pieces before making a purchase.
The Charm & Chain Resource Guide shows customers how to shop by Style Personality or Trend to find the perfect piece for any occasion. Clients who desire personalized advice can fill out a short form with questions about their budget, sense of style, and tastes. A personal shopper will email recommendations based on the answers.
Customers who are not satisfied with their fashion jewelry can find return instructions inside the original packaging. Charm & Chain encourages customers to return their items if they are not satisfied with the product. Because the company ships its products through the mail, customers must adhere to a list of requirements to ensure items are safely returned.
Charm & Chain is currently offering 15 percent off of a customer's purchase. Clients must have a Facebook account, and they must click the Like button on the Charm & Chain Facebook page. Gift cards are also available if customers would like to decrease the cost of a purchase for another person.
# # #