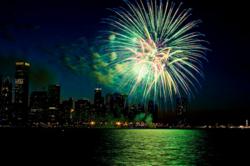 Chicago Navy Pier keeps summer nights explosive
Chicago, IL (PRWEB) July 10, 2011
Chicago Fireworks All Summer Long
Even though the Fourth of July is over, that doesn't mean that the summertime fun of watching fireworks has to be over too. Chicago Navy Pier keeps the summer nights explosive by offering fireworks displays every Wednesday and Saturday night all summer long through September 3rd. The fireworks can be seen flashing over the waters of Lake Michigan while hanging out on the pier, or there are a variety of specialty tours offered to watch the show in a more unique way.
Special Ways to See the Navy Pier Fireworks:
-Boat Cruises
-Bike Tours
-Kayak Tours
-Segway Tours
Each special adventure makes it possible to see the Navy Pier fireworks from a unique angle, where other viewers on the pier just can't go. These special offers give spectators a great tour of the city's architecture and other Chicago landmarks like the Magnificent Mile and Buckingham fountain. End with a boat rid offering an amazing view of the city's skyline, as well as front row seating to Chicago's greatest fireworks display. Prices for each offer vary, and some include food and beverage options.
Great Information for Navy Pier Parking
Navy Pier is accessible via public transportation, but there are also self-parking and valet garages available for those traveling from the suburbs. There is a Navy Pier Self Parking garage with 1,600 spaces available for the following rates:
· Monday through Thursday - $20 per day
· Friday through Sunday - $24 per day
· On holidays, Navy Pier Parking costs $24 per day.
Valet Parking and Reserved Parking are available through the Navy Pier Sales Office. Requests must be made 30 days in advance by calling 312-595-7437.
Motorcycle Parking at Navy Pier is available at Entrance 1 for a fee of $14.
There are also several parking garages near Navy Pier that have different rates for various amounts of time. Specific parking rates and locations can be found online.
Concierge Preferred is the Ticket to All Things Chicago
Looking for fun in Chicago? Concierge Preferred is the place to go to learn about what's hot in Chicago. Why wander aimlessly around the city when Concierge Preferred can point out the all the hidden jewels Chicago has to offer? Concierge Preferred will ensure that your experience in the city is unforgettable. When the fireworks are over, tourists and Chicagoans alike can get all the information they need about great events happening around the city, such as:
Navy Pier fireworks
Amazing restaurants
Hotels
Architecture
Sightseeing tours
Shopping
Museums
Music & Events
Theater
Sports
Nightlife
Chicago's guide to the city and for all things to do in Chicago please visit Concierge Preferred.
###