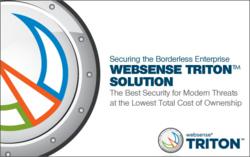 The Websense Suite offers the perfect compliment to Enteracloud's Small Business Cloud Adapter
San Diego, CA (PRWEB) July 04, 2011
Enteracloud Solutions, a leading provider of cloud based services for small business announces today it has joined the Websense Partner Program. Joining the partner program is a natural progression to the success Enteracloud has had in deploying websense technologies for small businesses.
In an age of borderless organizations, social media, small business cloud computing, WikiLeaks, tablets and smartphones -- modern, blended security threats from Aurora to Zeus are slipping past standard security products unchecked. With no network perimeter or standard endpoint to secure, only Websense can secure the content itself by identifying, classifying and understanding content in all of its forms and wherever it travels so that it can be protected from attack, theft and misuse. Through this innovative approach, the Websense® TRITON™ solution is unique in its ability to remove threats and risks while enabling organizations to take advantage of rich internet applications, SaaS, social media and mobility.
Enteracloud Solutions builds upon the TRITON™ solution by packaging it as a cloud based solution for small businesses. Often times smaller organizations are forced to build their infrastructure on a piecemeal basis instead of having the luxury of reduced risks and cost associated with a tested solution. Enteracloud is currently testing TRITON™ as a plugin for the Enteracloud Cloud Adapter for Small Businesses.
The TRITON architecture is a modular system, so customers can easily and efficiently expand coverage and services as their needs grow. Included in this release, for example, and ideal for existing Websense Web Filter customers, is support for Websense Web Security on the V-Series appliance. This provides Web Filter customers with enhanced security, consolidation and expandability to other TRITON services. Modular design like this helps organizations build and adapt their TRITON solution, and delivers a platform for the future, supporting soon-to-be announced Websense Mobile DLP™ and Cloud DLP™ services.
The innovative, first of its kind TRITON gateway unites the next generation of email security into the TRITON solution. Based on more than 10 years of proven email security expertise, this revolutionary new email security incorporates enterprise-class DLP, advanced encryption and archiving for email. Unlike "lite" DLP offered by other companies, Websense TruEmail DLP™ uses Websense market-leading DLP technology to accurately identify confidential data, virtually eliminating false positives and negatives and delivering full workflow and reporting. It also benefits from TruHybrid™ deployment capabilities so that spam is filtered in the cloud before it hits customers' networks and confidential data can be secured on premises before it leaves the network.
"Websense already leads the content security software market," said Tim Doscher, chief architect, Enteracloud Solutions. "Everybody else is providing a portfolio of point products. Only Websense made a four-year investment to build a platform that truly unifies and consolidates Web security, email security and DLP in a way that is greater than the sum of its parts AND reduces costs."
About Websense, Inc.
Websense, Inc. a global leader in unified Web security, email security, and data loss prevention (DLP) solutions, delivers the best content security for modern threats at the lowest total cost of ownership to tens of thousands of enterprise, mid-market and small organizations around the world. Distributed through a global network of channel partners and delivered as software, appliance and Security-as-a-Service (SaaS), Websense content security solutions help organizations leverage Web 2.0 and cloud communication, collaboration, and social media while protecting from advanced persistent threats, preventing the loss of confidential information and enforcing internet use and security policies. Websense is headquartered in San Diego, California with offices around the world. For more information, visit http://www.websense.com.
About Enteracloud Solutions
Founded in 2010, Enteracloud Solutions has been providing business-to-business private virtual co-location, voice, Internet, and managed data services to small and medium sized businesses throughout the United States. The company is managed and operated 24/7 by seasoned Internet and data professionals who specialize in providing service to companies whose infrastructure is critical to their business. Enteracloud's team of certified network engineers provide the skill and expertise needed to deliver a range of networking solutions from simple to highly complex. For more information visit http://www.enteracloud.com or call 858-433-8650.
###