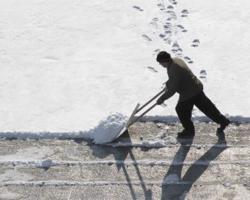 Trade prices for rock salt in July and August 2011 are £1.60 per bag.
(PRWEB UK) 6 July 2011
Last year again caught out many businesses when the snow and ice came early, with salt stocks quickly running out and shortages causing a high escalation in prices. The main problem was that the UK sources of salt were redirected to councils for road gritting to keep our roads clear which is rightly so but this left a lot of businesses and services without salt as many suppliers ran out.
Imported white salt although more expensive was used by most packing companies to replace the UK's brown salt, this was imported through all the major UK ports. As these sources have to be ordered weeks if not months in advance a difficult decision has to be made as to what needs importing for a potentially severe winter. Last year the severe snow and ice came earlier than expected and it looked as if we were into a prolonged adverse weather situation as we had experienced the previous year. Extra shipments of white salt were ordered, they arrived in December and January but as the stock began to increase the weather turned milder. There remains a large amount of white salt for this year sitting at most ports but this has come at a cost. Storage at the ports can be expensive and this will keep the white salt prices fairly high throughout this season also.
Brown rock salt is now available from UK mines and whilst we are able to buy at a cheaper rate through the summer Derbyshire Aggregates are encouraging buyers of large quantities to consider taking in stocks during July and August. The prices will be low but availability is still limited and strictly on a first come first serve basis as demand is on the increase at the moment. Availability is expected to affect prices in September and October. Prices for November onwards are predicted to be even higher with very restricted supplies.
Long term storage of salt which is pre bagged is not a problem, pallets come shrink-wrapped and this provides good protection for a year or two to the salt. If stored indoors the bags will remain in good condition for many years. For these reasons we are encouraging businesses to consider a backup stock and if it ordered in the summer it will never be cheaper. Another issue is that in the times of high demand the weather we are fighting causes long delivery delays to those who need the salt. Our normal delivery times for summer is next day or 2-3 days but in winter this can stretch to 2-8 days depending on road conditions. This situation is not useful as when the snow falls it is then that you need the salt to keep the surfaces free of ice and compacted snow, so always keep enough in stock for at least 2 weeks of severe weather.
Everyone hopes the winter will be mild but if not people must be prepared for the disruption this severe weather brings. The best preparation is to order rock salt now.
Phone now to discuss ordering your supplies of rock salt on 01629 630256 or visit our rock salt website for more details.
###