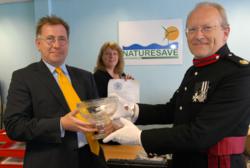 "We are delighted to win the Queens Award which recognises at the highest level in society the value of innovating and offering green and ethical insurance," Matthew Criddle, Managing Director, Naturesave
Totnes, Devon (PRWEB UK) 4 July 2011
South West ethical and green insurance provider, Naturesave Insurance, was presented with their prestigious Queen's Award for Enterprise for Sustainable Development trophy by Mr Robin Barlow DL FRICS, on behalf of Her Majesty's Lord Lieutenant of Devon, in their offices in Totnes on July 1st at 11am.
Mr Barlow presented managing director, Matthew Criddle with a crystal bowl to mark the occasion. He was supported by Vice Chairman, Devon County Council, Cllr Ray Radford, Chairman, South Hams District Council, Cllr Rufus Gilbert, Mayor of Totnes, Councillor Judy Westacott, Member of Parliament, Dr Sarah Wollaston and Deputy Clerk to the Lieutenancy, Mrs Judy Grainger. The Awards citation was also read out.
The Awards are made each year by The Queen, on the advice of the Prime Minister, who is assisted by an Advisory Committee that includes representatives of Government, industry, commerce, and the trade unions. There are three categories of award: international trade, innovation and sustainable development. Winners are announced each year on 21 April, The Queen's birthday. The Queen also invites winners to a reception at Buckingham Palace.
Naturesave Insurance has been an innovator and market leader in the ethical and green insurance market for 17 years. It is the UK's first and only specialist ethical insurance provider offering a range of innovative policies by which clients may protect both themselves and the environment.
Naturesave promotes sustainable development within the business community and aims to create greater awareness within the Insurance industry about the long term problems that the industry faces in ignoring the threat of climate change, pollution and environmental damage.
In the award citation, Naturesave Insurance was described as, "an exemplar ethical insurance cover provider for individuals, companies, and the voluntary sector throughout the UK, which has set a clear benchmark for others within the insurance industry. Sustainability and ethical business practices are at the core of the company's commercial activities, with preferred treatment given to charities and not-for-profit organizations."
"Naturesave Insurance has taken an innovative approach to promoting sustainability and delivering benefits within the wider community through the Naturesave Trust (funded through the company's premiums) that gives grants to environmental, conservation, and community renewable energy projects throughout the UK." Thus far, £250,000 in grants have been awarded to projects that encourage the commercial adoption of sustainable development. The array of funded projects can be explored at http://www.naturesave.co.uk.
Naturesave also offers environmental audits. It rewards carbon offsetting on its commercial policies and energy-saving measures on its domestic policies. This year, the company launched the industry's first insurance policy covering domestic renewable systems as part of their standard household insurance.
Naturesave has become the preferred insurer of over thirty Transition Towns across the UK (including Totnes). It insures award-winning Grand Designs properties, and has been chosen to insure high profile events, including Nelson Mandela's 90th Birthday celebration and his "46664" charity.
Naturesave's founder and Managing Director, Matthew Criddle said: "It's an honour to be recognised by The Queen and locally by the Lord-Lieutenant of Devon. It shows that it really does pay to be genuinely green. It's an acknowledgement that, not only do our clients value our ethical approach, but that, at the highest national level, society values innovative and meaningful ways to effect sustainable development. It's also a good excuse to smarten our offices up to host this momentous occasion."
Contact Information
To arrange interviews and images please contact dawnbebe(at)weareonshore(dot)com 07831 790416 or janegeran(at)weareonshore(dot)com 07788 441357
Notes for Journalists:
1. Information: ROBIN PATRICK BARLOW O.St..J., D.L., F.R.I.C.S.
Employment;
2002 to date Self-employed fine art consultant and valuer
1978 - 2002 Sotheby Bearne's, later Bearne's Fine Art Auctioneers (as Chairman 1998-2002)
Firstly working as general auctioneer & valuer, subsequently as head of the picture department, and as Deputy Chairman then Chairman of the Company.
1977 Phillips Auctioneers, Edinburgh. As general auctioneer & valuer with responsibility for weekly sales.
1974-76 Ensors, Auctioneers and Estate Agents, Wimborne, Dorset
As assistant to the Senior Partner, subsequently with responsibility for the running of a monthly sale of antiques.
1973-74 James Harris & Son, Land and Estate Agents, Winchester. Assistant land agent & auctioneer.
Other Activities: Professional
1976 Elected Associate of the Royal Institution of Chartered Surveyors(ARICS)
1985 Elected Fellow of the Royal Institution of Chartered Surveyors (FRICS)
1993 Appointed to the Committee of the Society of Fine Art Auctioneers (SOFAA)
1996-2000 Served as Chairman of the Society of Fine Art Auctioneers
1996-2000 Served on the Executive Committee of the British Art Market Federation (BAMF)
2000 - 2006 Served as Secretary (to 2003) and Hon Treasurer of the Society of Fine Art Auctioneers and Valuers (SOFAA)
2002 Elected Valuer Member of the Society of Fine Art Auctioneers & Valuers
2005 Elected Honorary Associate of the Society of Fine Art Auctioneers and Valuers
2005 -2009 Sat on joint RICS/SOFAA committee regarding valuation standards
2007 Admitted as a Freeman of the Guild of Arts Scholars, Dealers & Collectors
2008 Appointed to the Arts and Antiques Faculty Board (now Professional Group) of the Royal Institution of Chartered Surveyors
2009 Admitted as a Member of the Expert Witnesses Institute
Other Activities: Charitable
1993 Appointed to the Council of St. John for Devon
1998 Appointed Serving Brother of the Order of St. John
1999 – 2006 County President, St. John Ambulance Brigade, Devon
2003 Appointed Officer of the Order of St. John
2008 to date President of the Newton Abbot Division, St. John Ambulance
Other Activities: Advisory & Charitable
1998 – 2007 Served on the Lord Chancellor's Advisory Sub-Committee for Justices of the Peace for Exeter and Wonford (now Central Devon)
2001 – 2007 Served on the Lord Chancellor's Advisory Committee for Justices of the Peace for Devon
2002 Appointed to the Council of the American Museum in Britain, Claverton Manor, Bath
2004 Appointed a Governor of Stover School, Devon
2005 Appointed Deputy Chairman of the Board of Governors, Stover School
2005 – 2007 Served as Chairman of the Conduct Panel for the Lord Chancellor's Advisory Committee for Devon.
2006 – 2010 Served as Chairman of the Board of Governors, Stover School
2007 Appointed Trustee of The Britannia Museum, Royal Naval College, Dartmouth
2008 Appointed to the Council of Exeter Cathedral
Honours
2002 Appointed Deputy Lieutenant for Devon
2009 Gazetted as High Sheriff in Nomination for Devon 2012-2013
Publications
1999 Guidance Notes for Good Practice, Society of Fine Art Auctioneers [SOFAA]
2009 Co-author RICS Guidance Note on the Valuation of Personal Property
Interests – Fishing, Shooting, Walking, Archaeology, vernacular history
2. Naturesave differs from other insurance providers in four ways:
1.10% or premiums from Naturesave's household and travel policies go into the Naturesave Trust to provide grants for environmental, renewable energy, and conservation projects.
2.Businesses that take out commercial policies are offered an advisor who will conduct a free environmental survey of their premises, and recommend how working practices could be made more energy efficient and environmentally-friendly.
3.The Naturesave Trust rewards carbon off-setting practice with grants, which are available to any Commercial Combined, material damage and liability policy holder who off-sets their carbon emissions.. Discounts are offered to clients who are already making changes to their energy consumption.
4.Naturesave acts as a lobbying force, advising and influencing insurance companies on how they can encourage the adoption of sustainable practices.
3. History and Organization:
Naturesave was established in 1993 by insurance industry expert Matthew Criddle (ex-Lloyds of London) with the intent of using insurance as a vehicle for sustainable practice.
It is based in Totnes (one of the world's most famous transition and eco towns) and counts the Transition Town movement throughout the UK as an important client.
The Naturesave Trust, its charity arm, has invested over £240,000 in environmental, conservation, and community renewable energy projects (see http://www.naturesave.co.uk)
Naturesave offers a comprehensive range of insurance including: household and insurance policies, charity and not-for-profit insurance, liability and professional indemnity, engineering, marine, travel, and contractors insurance. "If clients ring us, we can tailor policies to suit most needs," says Matthew Criddle. "We are a specialist and bespoke insurance company and can offer competitive and flexible pricing."
"Naturesave Insurance" is the trading style of Naturesave Policies Ltd, which is regulated by the Financial Services Authority
Contact Information
To arrange interviews and images please contact dawnbebe(at)weareonshore(dot)com 07831 790416 or janegeran(at)weareonshore(dot)com 07788 441357
###