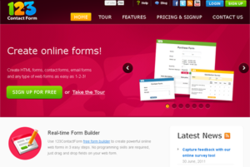 Create online forms as easy as 1-2-3. Form building has never been easier.
(PRWEB) July 06, 2011
123ContactForm.com, a European startup, which offers the easiest online form builder, is announcing latest company news. During the last 6 months, the team raised an angel investment round from a local investor, completely redesigned the website and added many new features and integrations with third party services.
Adrian Gheara, angel investor and entrepreneur, partnered with the 123ContactForm team in 2010 and offered financial aid and expertise. With additional funding, new talent was added to the team, which boosted the business development in the last 6 months, and will further support the growth of the user-base. 123ContactForm will expand its operations from the European & US markets to other international markets. The additional funding allowed the company to quickly enhance the application and add many new features and service integrations, which makes forms very powerful tools for any website owner or administrator.
123ContactForm has made major improvements to its platform:

The website was completely redesigned and rebuilt from ground-up for a better user experience.
A new drag & drop real-time form editor that allows users to view modifications instantly.
Integration of third party applications (Google Docs, MailChimp, SalesForce, Google Groups, Yahoo Groups, Google Sites, WebHook, and more) that facilitate data manipulation and post-processing. With these integrations in place, forms are much more than just forms. All website owners should take advantage of these powerful tools and link their forms with other business processes.
A form management application for Facebook which makes it very simple to post forms on Facebook pages;
Form management plugins for different blogging platforms, like WordPress, Blogger.
Integration of three payment processors: PayPal, Google Checkout and Authorize.net, that can be used within forms to accept payments from submitters;
New form field types that ease and improve form-submitter interaction, and a new theme manager to increase the appeal of the forms.
The 123ContactForm service is still free, as it has always been, with the option to scale up and upgrade to premium accounts if needed.
About 123ContactForm
Launched in 2008, in Timisoara, Romania, by Florin Cornianu and Tudor Bastea, 123ContactForm provides complex web form creation services. During the past few years, the 123ContactForm engine has become one of the worldwide most popular and professional platforms in its field. More details about the new platform features can be found on the 123ContactForm Blog.
###