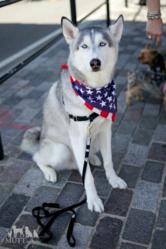 "Pet stores that sell puppies from puppy mills should hold these truths to be self-evident, and cease selling pets in favor of promoting adoption of animals from local shelters and rescue groups."
Salt Lake City, UT (PRWEB) July 04, 2011
What's red, waggy and blue, and sports stars, stripes and spots?
It was hundreds of darling dogs decked out in their 4th of July best, united Saturday for old-fashioned Independence Day Paw'rades in four cities across the county to bring attention to the connection between pet stores and puppy mills. It was also an opportunity to encourage all citizens of our great nation to adopt rather than buy their next pet, and to demonstrate that purebred dogs, puppies and other highly adoptable dogs can be found through shelters and rescue groups.
The Paw'rades took place in Los Angeles, Las Vegas, Salt Lake City and New York City, and an estimated 300 people put on pawtriotic bandanas, beads, leis, ribbons, hats, wigs and flags and walked with their own canine companions and dozens of adorable adoptable dogs.
True Blood's Kristin Bauer and L.A. City Councilman Paul Koretz lead about 75 people and their dogs in the Los Angeles Paw'rade. Despite the intense heat, the walk ended with a pawty and adoption event outside at Maxwell Dog, a rescue-only pet store. Everyone indulged in July 4 cupcakes, and folks competed with their dogs in a best dressed dog contest.
The Las Vegas event was held Saturday evening to beat the heat, and around 75 people and 50 dogs took part in the Paw'rade in Town Square Park. "Shimmer," an American Eskimo, is a former puppy mill dog rescued by Best Friends. He celebrated his independence with the others in the park, but is still very shy and has not yet found his forever home. Attendees enjoyed treats and entertainment and visited with cute canines during an adoption event.
In Salt Lake City, nearly 80 people and pooches took a star-spangled stroll around the city's downtown Liberty Park. After the walk participants enjoyed ice cream, face painting, an opportunity for children to read to a therapy dog team, and a pet adoption event featuring dogs from No Homeless Pets in Utah, Salt Lake County Animal Services and the Humane Society of Utah.
In New York, more than 50 people gathered with their furry friends near the U.S.S. Intrepid and paw'raded to Pocket Pooches for an adoption event featuring rescued dogs from Yorkie 911. Pocket Pooches was also celebrating its grand re-opening as a rescue-only pet store, now offering space for adoption of local homeless pets rescued from overwhelmed, high-euthanasia shelters by All They Need is Love Animal Rescue, rather than supporting the puppy mill industry by selling puppies.
The Independence Day Paw'rades, organized by Utah-based Best Friends Animal Society, were designed to raise awareness of the lack of liberty endured by millions of puppy mill dogs who suffer their entire lives in tiny wire cages producing puppies for the pet store and online markets.
Four million puppies a year are churned out by the puppy mill industry, and consumers have the power to end this suffering by choosing to adopt from shelters or rescue groups rather than buy. If the demand for pet store puppies dries up, this inhumane industry will come to an end.
Puppy mills are problematic not only because of the cruel conditions endured by the parent dogs producing the puppies, but also because every puppy sold takes a home away from a dog already waiting in a shelter.
In each city before the Paw'rade, a Best Friends representative read a "Pro-claw-mation" declaring July 2, 2011 as Independence Day, for the pursuit of life, liberty and an end to puppy mills. It goes on to say:
Whereas puppy mills are commercial breeding operations that produce millions of puppies each year, while dogs in shelters still need homes; and,
Whereas more than 98 percent of pet stores are supplied by puppy mills; and,
Whereas millions of homeless pets are waiting to be adopted in shelters and rescue groups throughout the United States of America; and therefore,
Pet stores that sell puppies from puppy mills should hold these truths to be self-evident, and cease selling pets in favor of promoting adoption of animals from local shelters and rescue groups.
Until the day when there are No More Homeless Pets, we the people of Best Friends Animal Society and the United States of America pledge to save the lives of animals by adopting our pets and never purchasing them.
Best Friends' puppy mill initiatives (puppymills.bestfriends.org) educate consumers about where many pet stores get their pet inventory—factory-like commercial breeding operations where puppies and breeding parents are forced to live in squalid conditions, with little or no medical care. Although puppy mills are legal in the United States, many such breeders are not licensed and do not follow even the minimum standards of care for their dogs, confining them in tiny wire cages.
About Best Friends Animal Society®
Best Friends Animal Society is a nonprofit organization building no-kill programs and partnerships that will bring about a day when there are No More Homeless Pets®. The society's leading initiatives in animal care and community programs are coordinated from its Kanab, Utah, headquarters, the country's largest no-kill sanctuary. This work is made possible by the personal and financial support of a grassroots network of supporters and community partners across the nation.
To become a fan of Best Friends Animal Society on Facebook go to: http://www.facebook.com/bestfriendsanimalsociety
Follow Best Friends on Twitter: http://twitter.com/BFAS
Contact for more information:
Temma Martin
Best Friends Animal Society
801-953-8876
temmam(at)bestfriends(dot)org
# # #