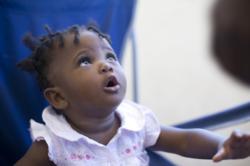 Men anpil chay pa lou./ Many hands make the load lighter.
Hadlyme, CT (PRWEB) July 14, 2011
The most spectacular singles event of the summer, the Midsummer's Night Extravaganza and Fundraiser will be held on Friday August 5, 2011. Guests will roam the 40 lush acres of Redwing Estate in Hadlyme, CT, engage in icebreakers led by Keith Alan (DJ and Voice Over Artist), hear dating advice from Jaimy Blazynski, founder of speed dating company "Got 5 Minutes" and author of the recently published book Crush, and dance to the steel drum Caribbean beats of the Calypso band White-Eyed Lizard. All proceeds will go to Roots of Development, a 501(c)(3) nonprofit dedicated to helping communities in rural Haiti manage their own development.
The romantic, bucolic atmosphere of the sprawling Redwing Estate is an ideal setting for single professionals to mingle, while at the same time contributing to Roots of Development's incredibly important cause. A community-driven organization, Roots helps fund and complete projects that Haitian communities themselves choose to partake in, such as building municipal water facilities and home reconstruction initiatives. With the price of admission, attendees will be helping Haitians learn how to better utilize the resources that already exist around them.
It is no secret that Haiti is populated with numerous NGOs, many of which are not effective in their efforts to enhance the country's development. Nevertheless, community-driven development is an essential approach to improving the situation in Haiti. Roots sets itself apart from the rest by focusing on empowerment—and genuine ownership over one's own development. In an effort to make the work it supports more sustainable, every Roots project is selected and prioritized by the community, staffed by Haitians whenever possible, and coordinated with local government officials.
The event begins at 7:00 p.m. Tickets are $200 and can be purchased at rootsofdevelopment.org or got5minutes.com
Contact 860 798 0037
###