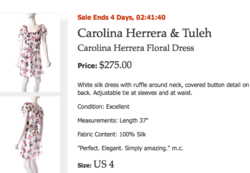 "This Carolina Herrara dress is timeless. At $275 it is a fraction of it's original price."
said, Marcy Carmack, Creative Director and Chief Stylist.
San Francisco, CA (PRWEB) July 05, 2011
The RealReal, the first luxury designer resale flash sale store, announced it's Event Sale line-up for July 4th. Sales this week feature fashion that beats the heat while deliver glamorous looks at a fraction of the original retail price. Check out the Sandal Event for great prices on Louboutin ($195), Prada ($125), Blahnik ($125) and Marc Jacobs ($125). The Pool Party Event offers snappy dresses from Pucci ($150), Missoni ($250) and Dolce & Gabbana ($295). Amplifying the pretty factor, the Carolina Herrara and Tuleh Event has exquisitely designed frocks that women with lasting style can't pass up - especially when they are in excellent condition and priced below $300.
The Celine event is drool worthy. The RealReal stylists love the Celine red gown ($325) and the tooled leather skirt with tags ($550 now, originally at $1900) and shoes ($145). Rati Sahi, The RealReal's Director of Merchandise, recommends the Chanel gold bracelet with gemstones and charm ($395), the Louis Vuitton Monogram Bag ($450) and the coveted Collier de Chien Hermes belt ($750) -- all found in the Accessories Event. All Event Sales last 72-hours.
Looking for designer items as inexpensive as $50? Members will find a large selection of top brands like Marc by Marc, Betsy Johnson, Tory Burch and more in the Warehouse Sale. The Warehouse Sale is always on and items are added daily. The RealReal stylists' favorites for summer fun are the Bazar by Christian Lacroix lace skirt ($100) and the Betsy Johnson slip dress ($50).
About The RealReal: The RealReal is the first luxury designer resale store to offer stylist-selected, amazingly priced designer luxury items as flash sales. All designer items for sale on The RealReal are hand-selected by a team of stylists, inspected, authenticated and fashion photographed. The RealReal launched for sales on June 23, 2011. A members-only site, membership is free for General Members or pay $5/month to become a First Look member. First Look Members get to buy 24 hours before General Members.
The RealReal is currently offering luxury consignors special incentives to consign luxury items with the company. Members and consignors can speak to one of the RealReal stylists toll free at: (855) 435-5893, Monday through Friday 9am-5pm PST for questions.
###