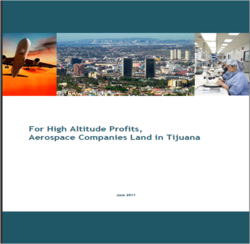 "Tijuana and Baja California are well positioned to become a center of excellence for component manufacturing in the aerospace industry given the number of companies established in the region..." Alberto Garcia, EATON, Latin America Supply Chain Manager
Tijuana, Mexico (PRWEB) July 05, 2011
Tijuana EDC unveiled a recent study of the aerospace industry showcasing the industrial capabilities available in the region. Baja California has over 40 years of aerospace manufacturing experience, a strong IP protection system, AS9100 and NADCAP certified companies and a pro-business labor environment that make it a prime location for aerospace parts and components manufacturing.
The study identifies the presence of 52 companies and 12,500 employees within the state of Baja California that represent 50% of Mexico's total employment in the aerospace manufacturing sector, making it #1 the Country. The new study highlights Tijuana's labor growth rate of 6% annually between 2006 and 2001, despite global economy trends, and positions Tijuana as a near-shore aerospace manufacturing hub, ideal for high mix-low volume production, due to its manufacturing infrastructure and immediate market access. Click to download a copy of Tijuana's aerospace industry white paper.
Engineering talent availability- The Tijuana region offers a young educated talent pool, currently three universities offer aerospace-related educational programs – including CETYS Universidad (with both an undergraduate in Mechanical Engineering with a minor in Aerospace Design, and a Masters program in Aerospace Engineering); the Universidad Autónoma de Baja California (with a new undergraduate program in Aerospace Engineering); and the Universidad Tecnológica de Tijuana (with a certificate program in Harness Manufacturing Processes). Over all Tijuana has 33,500 university students and close to 50,000 students in technical schools.
Positive labor environment. - Tijuana enjoys a remarkable labor environment free of union disputes. As a result of collaborative efforts between local government, companies and workers, local unions position themselves as key partners for increasing competitiveness. Recently Tijuana was recognized by the "Great Place To Work" organization, granting first and second place at a national level to manufacturing companies in Tijuana, along with 10 more Baja California companies.
Supply Chain Opportunities- The aerospace and defense industry in Baja California imports nearly 1.5 billion dollars each year in components and other supplies. Even though the region benefits from a well-developed certified network of suppliers located within 150 miles in Southwestern United States, there are significant opportunities to improve the supply chain and provide just in time deliveries of high precession machining, casting, forging, anodizing, composites and other specialized processes.
To support the rapid growth of this industry with a strong local base of suppliers, government authorities and private sector organizations have put together the 2nd annual Baja California Aerospace Supplier Forum to be held at the Matrix MRO facility within Tijuana's International Airport on July 20th. The event will feature Business to Business meetings, between procurement officials of leading companies such as Honeywell, Goodrich, Gulfstream, EATON, Zodiac, and Delphi among others, with local and international suppliers. The main needs showcase are concentrated in areas such as high precision aerospace machining, castings and forges, sheet metal fabrication, hydraulics and electrical systems, aluminum extrusion, and other NADCAP processes. More information is available in http://www.bajaaerospaceshow.com
In order to encourage first-hand knowledge about Tijuana aerospace capabilities, the Tijuana EDC has organized an Industrial Tour of Zodiac and Eaton facilities prior to the Aerospace forum, on July 20th, 2011, for more information contact a Tijuana EDC representative at contact(at)Tijuana-mex(dot)com
###