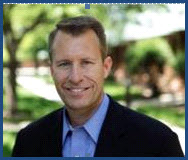 He will drive our key values of delivering customer satisfaction, leading a committed team and producing profitable growth.
Beltsville, MD (PRWEB) July 05, 2011
Effective immediately, Fred Zaeske will become the new Chief Executive Officer of DataBank IMX, LLC.
Dick Aschman, who has served as Co-Founder and CEO of DataBank since 2005, will move from day-to-day management of DataBank and his role and responsibilities will be assumed by Fred Zaeske. Chuck Bauer will continue as President/COO. Fred has served as the Executive Vice President at DataBank the past 6 months, working closely with Aschman to develop an intimate knowledge of DataBank and to ensure a smooth transition as the company continues on its path of growth.
Zaeske came to DataBank through its new relationship with Svoboda Capital Partners, LLC. He brings a strong track record of helping businesses achieve market leadership positions and has an excellent management background in the technology and services industries where he has served in a wide range of leadership roles. Prior to joining DataBank he was Vice President and General Manager of North America for Zebra Technologies Corporation.
"I am delighted to announce Fred as my replacement; he is ready to take a leadership role after his extensive orientation program on DataBank and our industry. He will drive our key values of delivering customer satisfaction, leading a committed team and producing profitable growth.
It has been an immense and pleasurable experience to be a part of building one of the finest companies in our industry along with the talented resources we have in our great people," Aschman said.
In order to help execute an accelerated growth strategy, Aschman will continue on the Board of Directors, spending the majority of his time on acquisition activities that will build on DataBank's presence and capabilities.
Chuck Bauer, co-founder of DataBank, president and COO said; "I look forward to working with Fred as we continue to grow our company, our people, and our reputation, focusing on delivering value in the services we offer."
"I am very excited and honored to be taking on the role of Chief Executive Officer at DataBank. This is an outstanding company full of great people, and I look forward to serving our clients, working with the team of professionals throughout the organization, and building upon the significant success that Dick, Chuck and our entire DataBank team have accomplished over the past five years. DataBank is uniquely positioned in our market with significant opportunities in front of us. As a team, our purpose will be to strengthen our industry leadership, expand upon the many good things we already do and find new approaches to advance our company even further by delivering the best possible solutions to the market that meet the specific needs of our customers." Zaeske said.
About Databank IMX
DataBank, http://www.databankimx.com has rapidly become an industry leader in document management and document conversion services with seven state-of-the-art production centers nationwide. DataBank is a national full service provider of document management solutions and document scanning services. They provide a comprehensive range of imaging services, document management software, web-based document hosting, and end-to-end vertical industry Enterprise Content Management (ECM) and department-level solutions for companies and organizations that want to improve their document imaging and information management processes. As an Industry leader, DataBank understands its customers' business environments and is delivering value-added application solutions and services to thousands of clients throughout the United States.
DataBank enjoys industry partnerships with document management and technology organizations from around the world, and has recently received national recognitions for its performance and quality by Kodak, Hyland and Digitech Systems. DataBank also understands the importance of protecting vital information belonging to its clients with SAS 70 Type II and PCI/DSS certifications. The company assists their clients in complying with HIPPA, FERPA, and other government and internal regulations and compliance requirements.
###