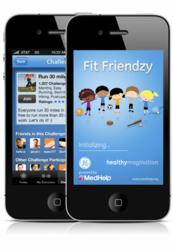 (PRWEB) July 06, 2011
Who says that exercising can't be fun? MedHelp, the world's largest health social network, has partnered with GE to create a new mobile health app that challenges users to have fun while getting fit. With the new Fit Friendzy – Exercise Challenge app, users can invite their friends to compete in more than 50 different exercise challenges or they can join in on a challenge with other Fit Friendzy users, providing motivation to start and stick with a fitness routine. The app is available as a free download on iTunes for the iPhone, iPad and iPod touch, or at http://www.medhelp.org/land/fitness-challenge-app.
With Fit Friendzy – Exercise Challenge app, users can choose from exercise challenges of various difficulty levels, ranging from easy to insanity, such as walking 30 minutes a day for a month to completing a marathon or doing 50 push-ups a day, guaranteeing a challenge that will excite users of all different fitness levels and goals. Users can invite friends to a challenge, join in on one with other Fit Friendzy users or work out on their own. Fit Friendzy tracks users' exercises, minutes worked out, distance, speed and total calories burned. A progress bar tracks how much of each challenge a user has completed and also allows them to see their friends' progress, helping them to stay motivated.
"The ability to invite friends and join other exercise challenge groups on Fit Friendzy makes exercising a fun and friendly competition," says John de Souza, president and CEO of MedHelp. "Not only are you challenging your friends and other members of the Fit Friendzy community, but, most importantly, you're challenging yourself to be in the best possible shape you can be."
"We know that having a workout partner makes people more accountable for exercising," said Linda Boff, executive director of global digital marketing at GE. "The beauty of Fit Friendzy is that you don't have to be in the same physical space or even working out at same time to make exercising fun and social. Putting engaging, easy-to-use tools in people's hands knits closely to what healthymagination is all about."
"Most people know that exercise is paramount to good health, but many don't do it because they find it boring," said de Souza. "By putting exercise in a social and dynamic environment, it's not about exercising any more — it's about having fun."
Additional features of the Fit Friendzy – Exercise Challenge iPhone app allow people to receive a schedule of exercise activities to be completed each day and a checklist of exercises they've done for easy tracking. An easy-to-read calendar view shows how often they've exercised and a progress bar tracks how much of each challenge they've completed. Users can comment on friends' activities and send notes to cheer each other on.
With free registration on MedHelp.org, users can wirelessly sync their data to MedHelp's online exercise tracker, giving them the ability to access their information from any computer. Users can then share this information with their healthcare providers, allowing for better communication about their health. In addition, users can pose questions to doctors from top U.S. hospitals and get advice from other users in MedHelp's online medical support communities.
The Fit Friendzy Exercise Challenge App is the sixth in a series of mobile applications that GE and MedHelp are creating for consumers everywhere, enabling them to live better, healthier lives. The first was the popular iPhone pregnancy app, I'm Expecting, followed by Sleep On It, a sleep tracker and alarm app, Moody Me, a photo mood tracker app, My Diet Diary, a weight loss and calorie counter app, and Pic Healthy, a photo food diary app.
Fit Friendzy, Pic Healthy, My Diet Diary, Moody Me, Sleep On It and I'm Expecting can be downloaded for free from the Apple iTunes App Store or from http://www.medhelp.org.
About MedHelp
MedHelp is leading the consumer health revolution by empowering people to take control of their health. As the world's largest health social network, 12 million unique users turn to MedHelp each month to achieve better health. With more than 300-condition specific communities, 150 ask-the-expert forums, partnerships with 7 of the 10 top U.S. hospitals and a robust suite of 50 online health tools, award-winning mobile apps and personal health records, MedHelp is the savvy consumer's health destination of choice. For more information, visit http://www.medhelp.org
About GE
GE is a diversified infrastructure, finance and media company taking on the world's toughest challenges. From aircraft engines and power generation to financial services, medical imaging, and television programming, GE operates in more than 100 countries and employs about 300,000 people worldwide. For more information, please visit the company's website at http://www.ge.com.
About healthymagination
Healthymagination is GE's $6 billion commitment that was launched in May 2009. Our "healthymagination" vision for the future invites the world to join us on our journey as we continuously develop innovations focused on reducing costs, increasing access and improving quality and efficiency around the world. For more information, visit http://www.healthymagination.com.
Media contacts:
MedHelp
Marta Debski
marta(dot)debski(at)medhelp(dot)org
415-882-4600
Katherine Solem
katherine(dot)solem(at)medhelp(dot)org
415-882-4600
GE
Stacey Tank
stacey(dot)tank(at)ge(dot)com
203-373-2727
###