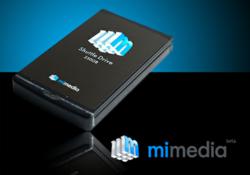 This new tool allows MiMedia users to add files from any machine, enabling larger and more manageable web uploads. -Erik Zamkoff, CEO and founder of MiMedia
Port Chester, NY (PRWEB) July 07, 2011
Known for its unique approach to online backup and storage, MiMedia today released a product upgrade to accelerate file and folder uploads to the cloud. Whether to backup music, video or documents, MiMedia technology automatically backs up files on a user's home computer in real-time, while the new Java-based feature allows for quick and efficient data uploads from outside devices.
The MiMedia platform is designed for intuitive online management of personal media, including online photo storage. With the new feature, users can upload multiple files and folders, up to 3 GB, to the (m:) drive for online storage. Comparable services limit file size to MB, do not allow web uploads, and often require the upload to be run through a desktop client.
The Java upgrade is accompanied by new file and folder sharing capabilities, which allow users to grant outside access to documents and collections of files. The recipient of a sharing link, sent by the user via private email or social networks, is connected to the file or folder directly on the MiMedia portal. Without needing to download anything, the recipient can then access it within the web browser, using the default application on the local computer. A download button gives the option to save the file on the recipient's hard drive.
"Web uploads have been limiting for many cloud services. This new tool allows MiMedia users to add files from any machine, enabling larger and more manageable web uploads," said Erik Zamkoff, CEO and founder of MiMedia. "In addition, the file and folder sharing tool gives our users grade-A security and control with the flexibility they want."
When a folder is shared, any files, sub-folders and sub-files within that folder are also shared. Files added to the shared folder are automatically added to the shared file set. There is no limit to the types, sizes or number of files that can be shared.
About MiMedia
MiMedia brings consumers a totally new approach to online backup—a way to protect, access, enjoy and share their digital lives all in one place. MiMedia will back up and protect personal files in a secure online storage account. Beyond online backup, MiMedia also provides instant on demand access to files from anywhere. The company is privately held and based just outside of New York.  For more information, please visit the company's Web site at http://www.MiMedia.com.
###