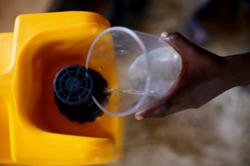 Water Water Everywhere, Not a Drop to Drink
Chesapeake, VA (PRWEB) July 06, 2011
A recent news article titled: "Beware the Zombie Apocalypse," was of course a play on the growing euphemism for any number of cataclysmic events that many believe will befall the U.S., and the world, soon. Regardless of the direction such a punch may be delivered from, whether financial ruin through severe depression, hyperinflation or simply doom from a natural disaster; one thing is quite clear- a common realization that many will be left to fend for themselves with little expectation of timely government support or intervention. However, as seen on the National Geographic's "Doomsday Prepper" show, there is among us an interesting and expanding community of like minded remarkable people who with balance, communication and proactive planning have grown into a major network of concerned middle class Americans who are urgently preparing themselves. This dramatic self-sustainment awakening among vast numbers of our U.S. citizenry has come to be known as the "American Prepper" movement.
Lifesaver USA understands firsthand what the devastating possibilities are for an area, a community, or a country overwhelmed by crisis and disaster. Their company has been involved for several years with many humanitarian water outreach programs around the world. Their ongoing program's in Haiti, alongside non-profit organizations, is one of the toughest environments imaginable. Their personal water filtration systems have created extraordinary changes within various towns and villages across this unbelievably impoverished nation. The Lifesaver water purification systems are sustaining thousands of family members on a daily basis- at home, in their children's schools and at several orphanages throughout the poorest regions. The most remarkable part about Lifesavers water filtration system is its functionality and capability. This system provides, on demand- at a flow rate of two liters per minute, clean sterile drinking water and does this solely through filtration, no need for chemical additives such as chlorine or iodine: Just fill-pump-drink. Gone are the days of filling old milk jugs with questionable tap water or buying cases of bottled water and storing them in the garage until they expire. As we all know, the reality is that even during a crisis there is plenty of water available in places a person normally wouldn't consider- such as sewage fouled water lines, chlorinated swimming pools and stagnant retention ponds. Only problem is, these sources of hydration simply are not safe to drink from; the Lifesaver makes them safe. Also, if one is forced to flee a shelter they don't have to worry about carrying water with them, just the means by which to clean it and Lifesaver meets this need as well.
So, whether some believe the world system is barreling over a financial precipice of its own making or, simply at the mercy of earthquakes, tornadoes and bizarre weather patterns influenced by the mechanics of the heavens. Most everyone can admit this point- the intensity level for all of them is really piling on for a frightening combination. The convergences of circumstance, for many, seem to be alarming indicators which should give reasonable and logical minds cause for genuine concern and legitimate investigation. With the 2011 Hurricane season underway and predicted to be similar in intensity to the 2005 season that spawned Katrina. The CDC and FEMA recommend that everyone in the U.S. affected by these extremes be prepared to shelter in place with no outside assistance for a minimum of 72 hours. As declared by CDC experts, "If you are prepared for a Zombie Apocalypse, you're prepared for anything." No matter what expert one subscribes to they all agree that survival is dependent upon the availability of three primary elements: water, food and shelter. And precisely as http://www.LifesaverUSA.com point's out- the one that can be most elusive in times of crisis is also the one that the human body can survive the least amount of time without, and that's bacteria and virus free drinking water. Is your family prepared?
###