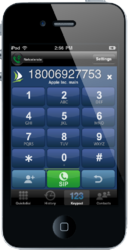 Netcelerate's Mobile Softphone Extension for Android has become a great tool for us; it allows our company to extend the office while on the road
Ottawa, Ontario (PRWEB) July 05, 2011
Netcelerate, a full-service business solutions provider, announced today the introduction of their business travel solutions. Whether traveling in Canada, in the United States or internationally, Netcelerate recognizes that reliable communication at an affordable cost is essential for business travelers.
"Netcelerate's Mobile Softphone Extension for Android has become a great tool for us; it allows our company to extend the office while on the road," says Kevin Parent from Grassroot Technologies. While travelling internationally, Kevin Parent is able to use three-digit dialling to reach anyone in the office with clear call quality.
"I use the services on VoIP every time I travel out of town on business or pleasure, because the low monthly cost from Netcelerate makes this very affordable for all my long-distance calls," says Dilys Anne Hagerman from Mortgage Alliance Partners. Dilys Anne Hagerman has Netcelerate's softphone installed on her laptop and is able to contact her clients from a virtual local number, giving the appearance that she is calling from the office.
"Business travellers, including Netcelerate customers and staff, have in the past fallen prey to significant cellphone fees and exorbitant data roaming charges. Netcelerate's Mobile Softphone Extension is a natural solution to this problem," says Jack Hunt, Chief Executive Officer of Netcelerate. The Mobile Softphone Extension can be integrated as an extension of an existing phone system or used as a stand-alone service. This mobile app is installed on smart devices to enable calling and internet usage over Wi-Fi at an affordable monthly cost for travelers.
ABOUT GRASSROOT TECHNOLOGIES
Grassroot Technologies specializes in end-to-end business support for all critical IT requirements. We provide a full solution for IT outsourcing allowing small and medium sized businesses to harness a team of IT expertise at a fraction of the cost of maintaining an in-house presence. It is our goal to provide industry leading products in order for clients to benefit from "green" and sustainable technologies that will allow organizations to realize measurable gains in energy savings, carbon footprint reductions and positive corporate image. For more information please visit http://www.grassroottech.com/
ABOUT MORTGAGE ALLIANCE PARTNERS
As the largest Independent brokerage in Canada, Mortgage Alliance has a simple mission and vision. We are an independent team of mortgage professionals that has achieved national presence through the recruitment and development of entrepreneurial people. We strive to provide the optimum environment and resources, enabling our national team of mortgage professionals to deliver choice, convenience and counsel to mortgage consumers. You can rest assured that your Mortgage Alliance professional has the expertise to get you the Right Mortgage®. For more information please visit http://mortgagealliance.com/DilysAnneHagerman/contactUs.asp
ABOUT NETCELERATE
Netcelerate has become a leader in transforming business communications by providing small and medium enterprises with business grade phone systems, hosted and managed voice and data services, business communications, and mobility solutions. The company's solutions have been built using Cloud Computing architecture and robust, manageable network access technology to ensure the best quality of service and the highest security for their customers. Netcelerate strives to provide affordable, easy-to-use, cost-saving solutions that are simple to integrate, modify and scale to accommodate enterprise growth. Netcelerate provides their customers with great telecommunication cost savings while maintaining high resiliency.
Netcelerate was established in 2003 and is headquartered in Ottawa, Ontario, with offices in Montreal, Toronto, Calgary and New York. Netcelerate offers private networks across Canada, with network coverage in all major U.S. cities through various partnerships.
###