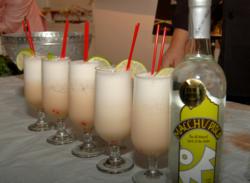 Toasting this 100th Anniversary is our way to allow the public to disvcoer Peru's national treasures: Machu Picchu and Pisco. Ricardo Romero, Peru's Trade Rep. to the US
New York, NY (PRWEB) July 05, 2011
Macchu Pisco LLC launches this week the Centennial Macchu Pisco Sour Competition as a collaboration with the Government of Peru to commemorate the 100th anniversary of Machu Picchu's re-discovery by American archeologist Hiram Bingham and the upcoming celebration of National Pisco Day (http://www.macchupisco.com).
While events and activities will be held year-round in Peru to toast this legendary Lost City of the Incas, Macchu Pisco LLC and the Government of Peru aim to bring to the American public who will not be able to travel to Peru a taste of Peru's magic to a city near them. The Centennial Competition will be traveling from DC, to Boston, New York (July 5th), San Francisco (July 5th), Los Angeles (July 6th) and culminating in the city of lights, Las Vegas (July 7th). Winners of each of these cities will travel to Peru courtesy of Avianca/Taca airlines in the Fall where the winning cocktail will be crowned the official "Centennial Macchu Pisco Sour" and its creator will win a trip to Cusco where he/she will stay at the 5-star Orient Express property, El Monasterio Hotel (http://www.aviancataca.com).
Company founder, Melanie Asher, noted, "While we toast to one Peruvian treasure being re-discovered by an American, likewise Peruvian Pisco is being put on the map thanks to American bartenders who embody Hiram Bingham's spirit of adventure." And to highlight the upcoming National Pisco Day, mixologists' sense of adventure and creativity will be tested when they shake up their variations of the iconic national cocktail of Peru, the Pisco Sour.
Although Pisco has recently been dubbed the fastest growing spirit category in the US, the participants in this competition are trailblazers who embraced Macchu Pisco since it arrived in these shores 5 years ago. Today, Macchu Pisco LLC boasts being one of the top exporters of Pisco due in large part to their success in spirits competitions, most recently the Ultimate Cocktail Challenge where it was awarded a 95-point score and deemed the "Extraordinary" choice for classic Pisco cocktails (http://www.ultimate-beverage.com/wine_reviews/cocktails-results/).
Lizzie Asher, President of Macchu Pisco LLC, concluded, "The pool of talent participating in this competition showcases the leading innovators in the world of mixology today and reflects the importance of the US in leading the revival of Pisco." While Pisco had its heyday in the US during the Gold Rush period, the versatility of this white spirit made from grapes will be on display not only during the Centennial Macchu Pisco Sour competition but also during the entire month of July in the cocktail menus of participating bars and restaurants.
###