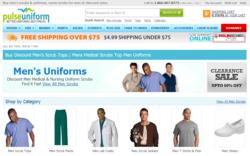 We have already created a dedicated page for nursing student last month and this time our male nurse friends now will have their own page for easy shopping of men's scrubs
(PRWEB) July 06, 2011
Male nurses are considered the minority group in the nursing field and they are often given no or little attention in terms of primary needs of uniforms and nursing scrubs. Most of the time, male nurses are left with no choice but to wear their boring solid scrubs only to stay away from being stereotyped. Pulse Uniform knows that male nurses too should be given their own place in the nursing profession thus this month the number 1 online uniform store in the US added a new page that is solely dedicated to male nurses. The new webpage features several styles and colors of men's scrubs, lab coats, shoes, and many other accessories needed for nursing.
This new webpage from Pulse Uniform is part of the innovative plan of the company in terms of marketing. There is nothing better than marketing nursing scrubs to those who would really use them and Cherokee workwear to those who really needs them. Thus, as the corporate management says, the company is tracking more specific target clients but highly considering its social responsibility that was once publicly shared in one of their press releases.
"We are adding webpages in our website that will cater to specific needs of all nurses. We are done classifying the pages according to brands and prices, now we are moving toward creating categories according to specific demographics. We have already created a dedicated page for nursing student last month and this time our male nurse friends now will have their own page for easy shopping of men's scrubs," read an email correspondent from Pulse Uniforms' Marketing Department.
One of the reasons for the establishment of the dedicated page is to ensure that the men nurses are getting the nursing scrubs that they really want. Generally, men's scrubs and accessories are typically categorized under unisex sections of most online stores and most often mixed with the female scrubs with girly themes. With a dedicated page for male nurses, Pulse Uniform hopes that it can give better service and options for the other gender in the nursing field.
Currently, the company offers different brands of nursing scrubs for male nurses like Cherokee workwear, Panda Uniforms, Dickies, Landau, and Barco among others. The scrubs are also available in different colors, sizes and designs. There are also male-oriented print design scrubs that male nurses can choose from. Aside from these, different colors and types of lab coats, scrubs jackets, and scrub pants are also available on the said page. Men's scrubs shoes and other accessories are also included on the new page. Logo embroidery and custom made scrubs are also available on the products included in the new webpage.
Pulse Uniform can be reached through a 24/7 toll free call service at 1-866-967-85-73 or through an online chat system in their website. Questions and suggestion may also be emailed at info(at)pulseuniform(dot)com.
###