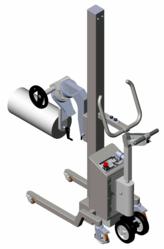 "The new powered drive system brings a new dimension to the 'Compac Mk5' lifting machine"
(PRWEB) July 07, 2011
Packline are proud to introduce the new powered drive feature to their 'Compac' roll lifting and handling equipment.
The powered drive system provides the operator with assistance during travel. The tiller handle allows for easy steering with twin wheels for increased control. A toggle switch is operated at the handle to engage or disengage powered control in both forward and reverse directions. An on/off key can be included to ensure that only suitably trained operators can use the equipment.
Ideally suited for clean room environments, the stainless steel 'Compac' range of roll handling equipment from Packline is proving to be a winner worldwide with customers operating in the following industries:-

Food
Drinks
Dairy
Pharmaceutical
Medical
Chemical
Packline manufacture a comprehensive range of lifting and handling attachments to suit their range of stainless steel drum and roll handling equipment.
The lifting attachments can be supplied permanently fixed to the lifter or fully interchangeable using the unique quick release system.
Bespoke attachments can be designed to provide a lifting and handling solution for most types of roll, reel, drum or barrel.
Designed to lift, transport and position rolls and drums - the 'Compac' from Packline has been the name associated with high quality and reliable stainless steel lifting equipment for many years.
The latest roll handling model - the Mk5 lifter - has been developed following extensive market research into the lifting and handling needs of today's modern production environment.
The 'Compac' lifter is flexible in design and operator friendly. With its range of features and functionality - it meets the needs of today's lifting requirements.
Primarily manufactured from stainless steel, the 'Compac' is ideal for industries where hygiene and resistance to chemicals are of paramount importance.
With a small footprint and easy operation - the 'Compac' can be used in the confined work spaces and narrow production lines found in many of today's modern manufacturing environments.
The 'Compac' is available in three standard models with maximum lifting capacities of 60kg, 150kg, and 300kg.
Engineered and tested to exacting standards and using only fully approved components, the 'Compac' has been designed to provide a low maintenance, reliable machine that has been built to last.
Considering operator safety at all times - the 'Compac' has been designed to meet the latest international Health & Safety directives with supporting risk assessments, technical files and documentation.
For further information on roll handling equipment with powered drive or the full range of lifting and handling equipment, please contact Packline Materials Handling on +44 (0)1202 307700 or visit http://www.packline.co.uk.
Packline Ltd
Unit 28
Newtown Business Park
Ringwood Road
Poole
Dorset
BH12 3LL, UK
Packline's USA Distributor:
KOCH Equipment LLC
1414 West 29th Street
Kansas City, MO 64108-3604
(O): 816.360.2034 | Ext 2034
kochequipment.com/
For a full list of worldwide distributors please visit Packline's website.
###